Product Description
 Warranty
 About Junsun

Top Ten Brands, worth to trust; 970K + fans, popular among customers;

 High quality

All the products will be tested before shipment, do not worry

 Ship time

After verify payment will ship out within 48H from China warehouse, and 24H ship from local warehouse ; (China working time)

 Return & Repair

Please inform us if receive goods with problem, we accept return for exchange or refund;

 Feature
 3G Internet

Surfing anywhere and anytime. Network band: 3G WCDMA   B1(2100); 2G GSM (2/3/5/8);

 Remote Monitor

Remotely monitor your car in real time from anywhere, anytime by app "Car Assist"

 GPS Navigation

Navigation maps Permanent free update, users can download other map from the playmarket for offline navigation via 3G network, such as: IGO, WAZE, GOOGLE, T-map and more

DVR function

Loop Recording: Automatic cover videos and can continue to make recording;

G-Sensor: Lock important videos when strong shocking;

Parking Reversing: Dvr will automatically switch to the rear camera image with parking line, when switch reverse gear;

Dual Lens Recording: With full HD1080P front camera and 480P rear view camera. Recording at the same time;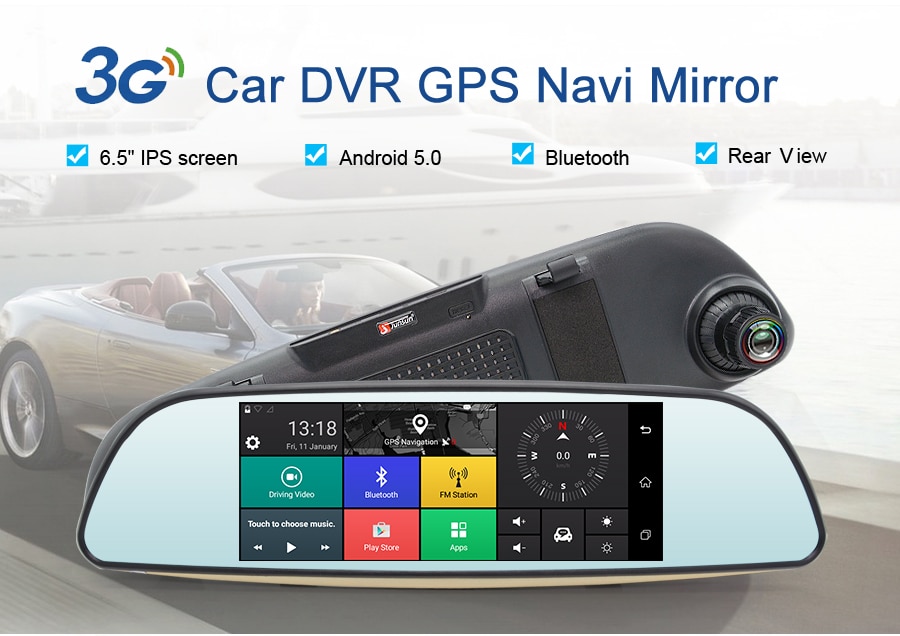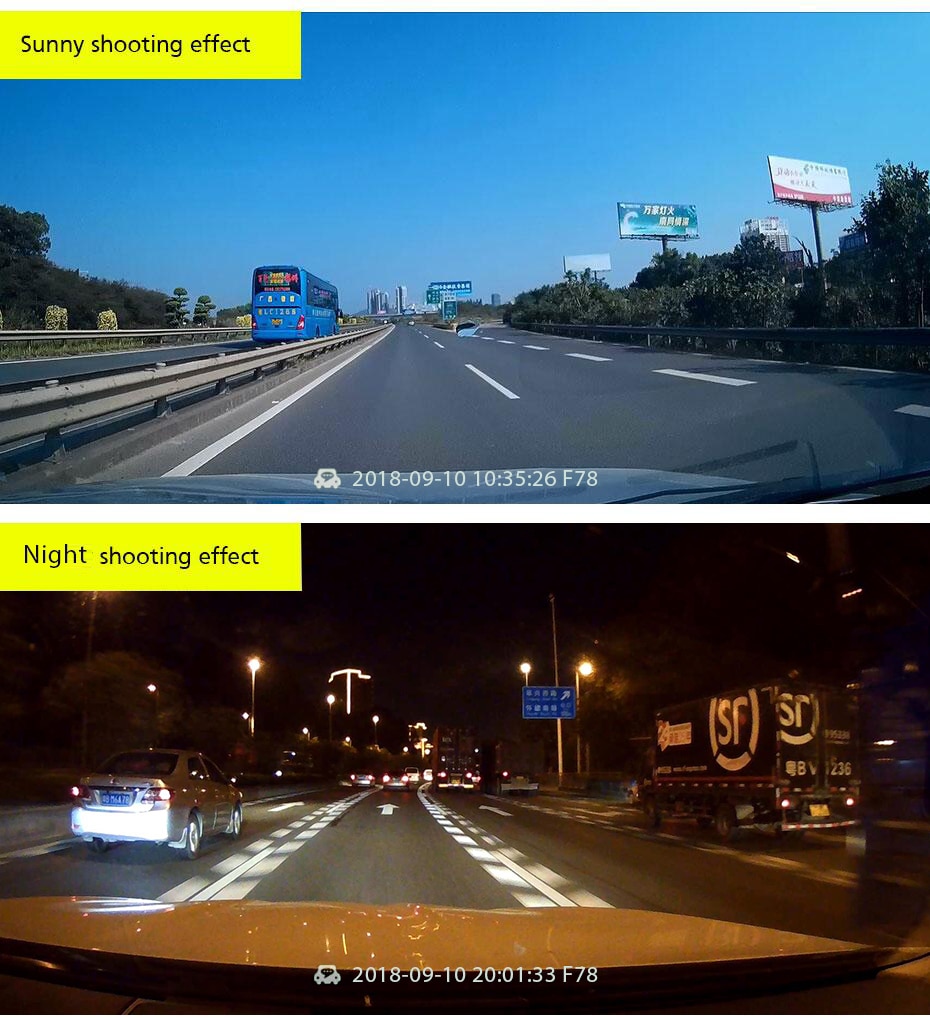 3G Surfing Network
Just add one 2G or 3G sim card can make you connect to the internet. It's
network band support 2G GSM(1900/1800/850/900); 3G WCDMA B1 (2100).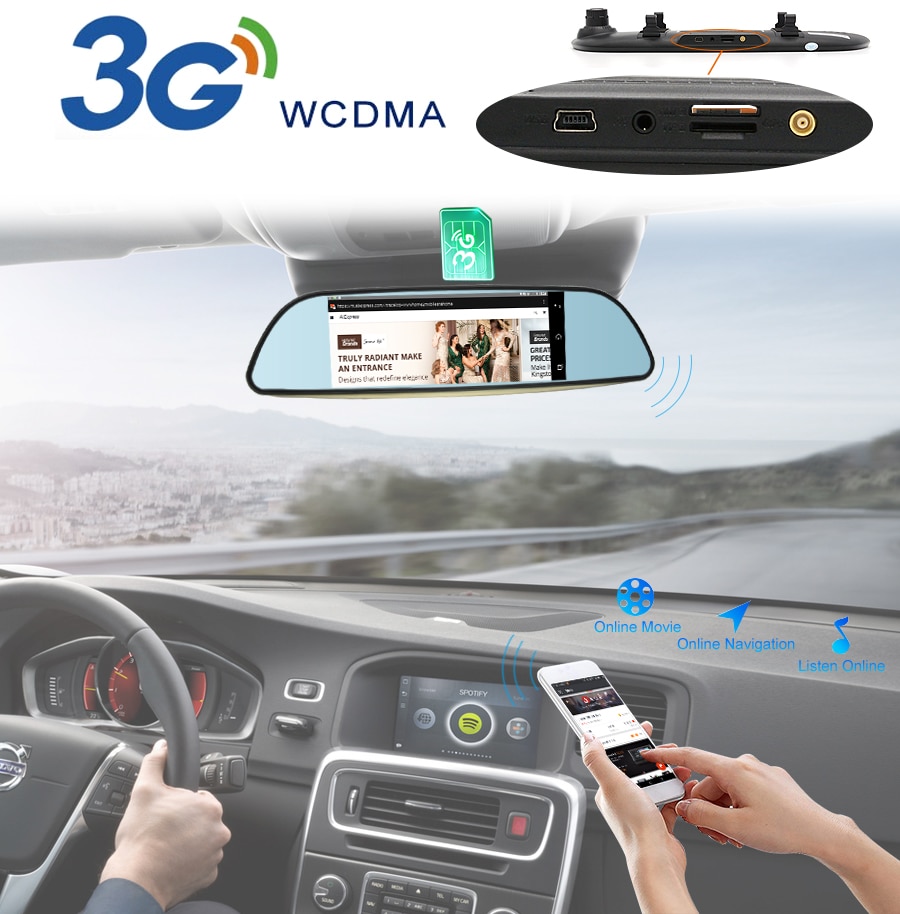 Remote Monitor on Car Assist APP
Remote Car Assist APP, check views on the mirror dvr by smart phone.  Keep surfing Internet and remote
monitor your car driving path.  Download important videos and one Key to share beauties of car driving.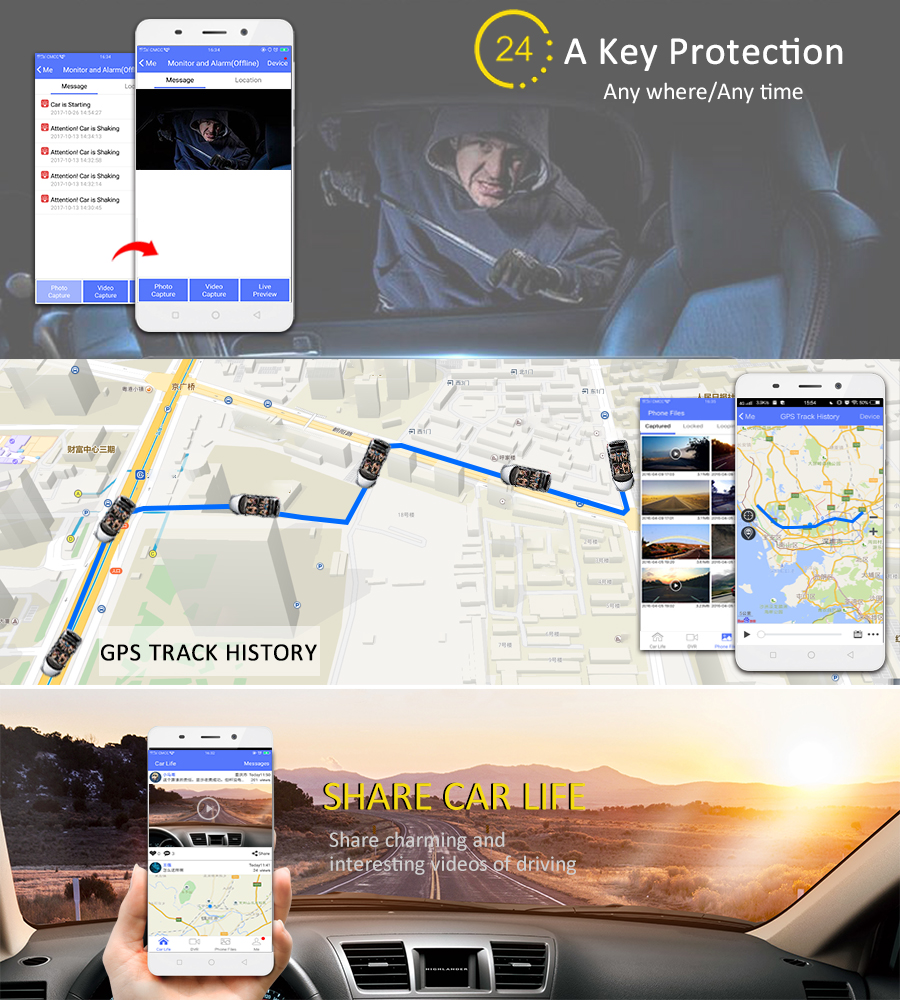 Monitor and Alarm 
720P hpoto and 10s video alarm will be shortly (1-5s) send to your phone if a car collision happened.
GPS Track History
Car driving path will be recorded and real-time payback on car assist APP.
One Key Capture Video
One key to capture 10s video on car assist app via WiFi connection
Remarks: Please connect the dvr's wifi hotspot to make sure your smartphone and the car dvr under the same network.


1080P HD front camera, record the truth, restore the real
480P After the camera, reversing image display, touch the porcelain rear-end are not the same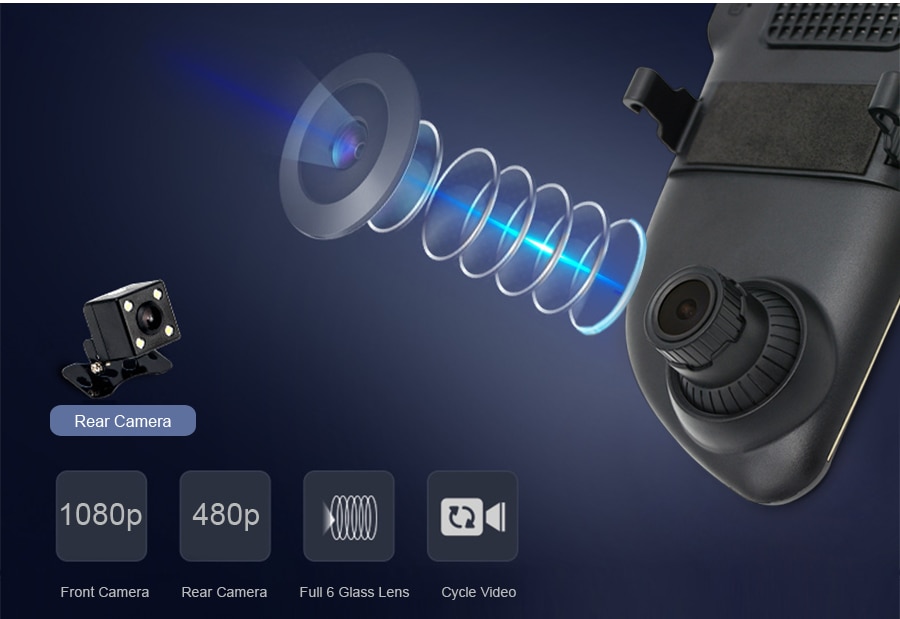 Dual Lens Recording
This Car DVR has two cameras that allows for simultaneously
recording videos from two different angles , and have special two split view display.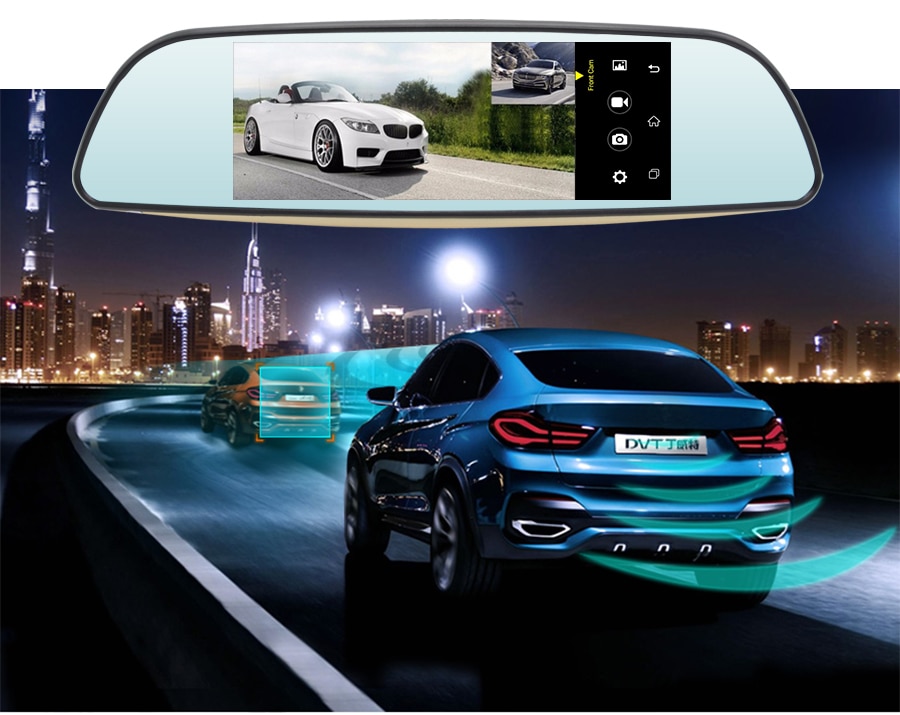 Rear View Camera
When the car in Reverse Gear, this car DVR will automatically switch to the
back-up camera image view with parking line.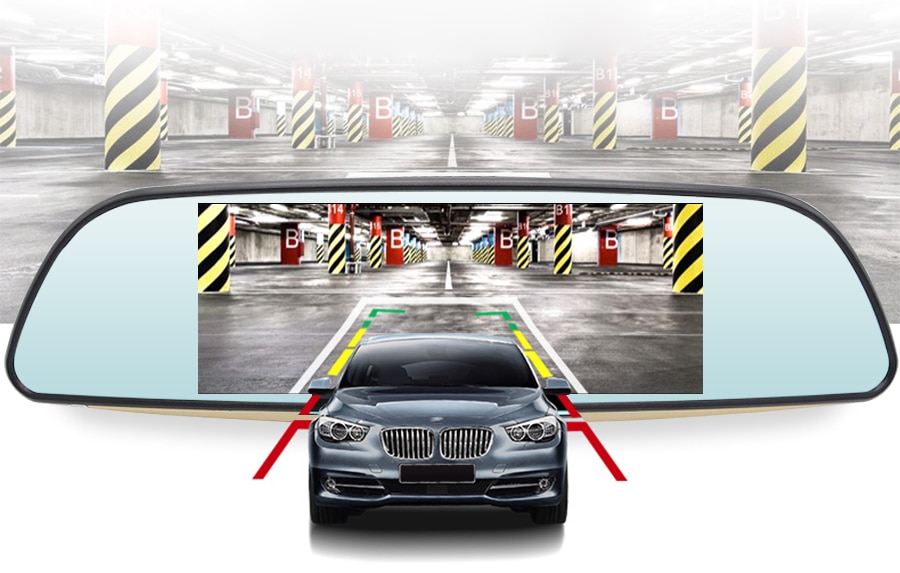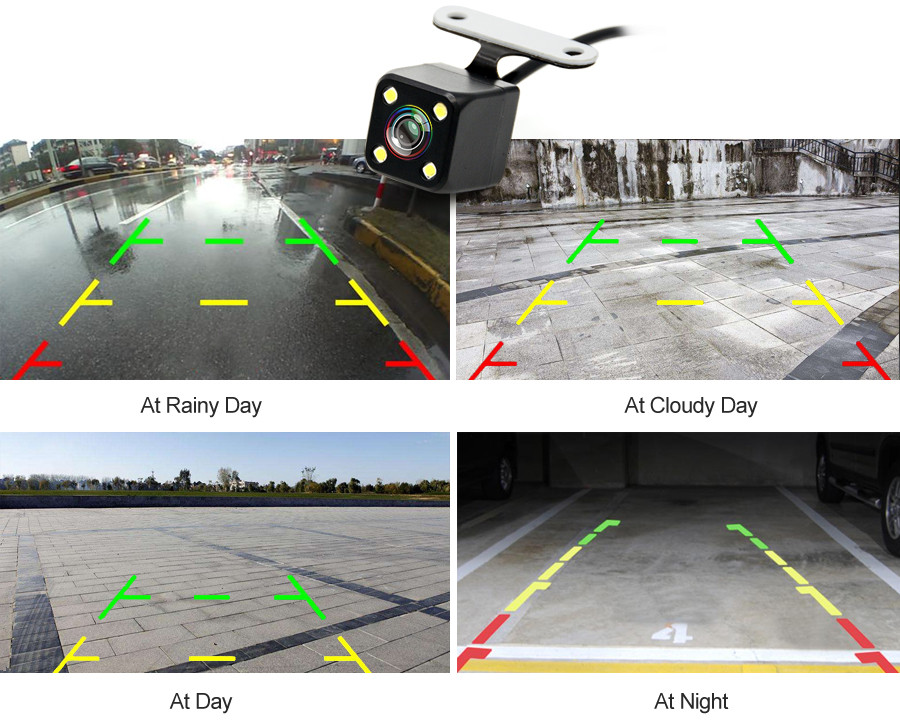 Download your favorite GPS to internal memory, with the addtional GPS antenna,
this dvr provides the best experience no matter the destination is. Plus, it's
3G network function , helps the dvr to get more quickly and smoothly online GPS navigation.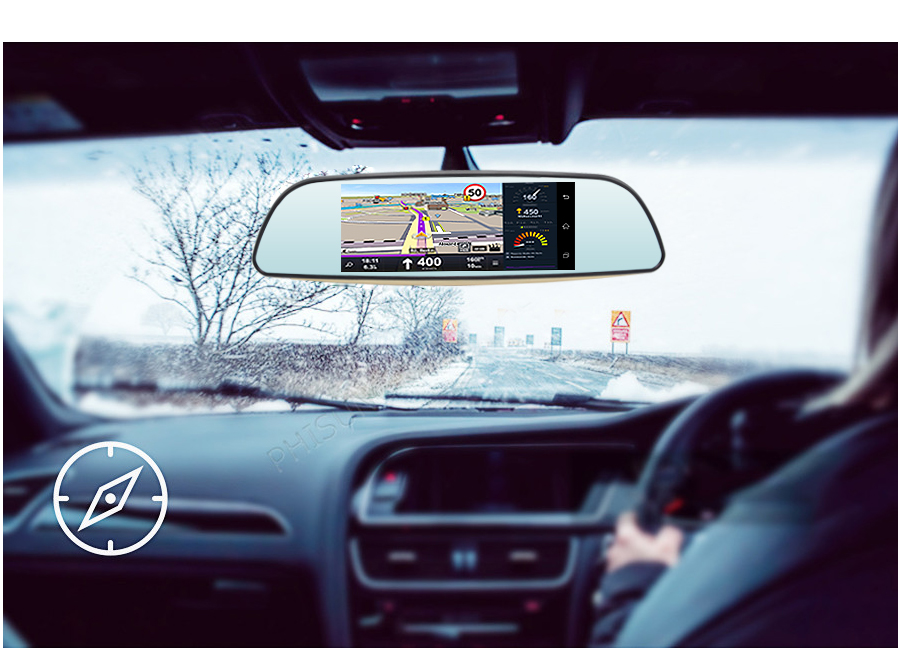 Detailed Maps with Free Updates
1, beautiful 3D landmarks, buildings,parks and mountains,help you find your
bearing in unfamiliar areas. Driving with Sygic GPS Navigation is both practical and enjoyable.
2, precise distance to each maneuver will guide you to your destination. If you
miss a turn our smart algorithm will immediately recalculate to get you back on your way.
Navigate Complex Interchanges with Ease  
Junsun GPS Navigation has lane assist with junction view that displays upcoming junctions and uses brightly colored arrows to indicate your proper lane. and easily navigate complex interchanges.
More Information at a Glance
The device keeps your driving map onscreen at all times and additional information appears alongside. For details, simply ask or touch the screen. As you drive your route, Up Ahead constantly informs you of nearby services, including fuel stations, hospitals .
Support Europe / North America / South America / Southeast Asia / Middle East map (We will install map according to your address, such as: the United Kingdom, we will install the map of Europe)
Note: About the map, if you want to update the map, please contact us, we will upload it
to the "Drop box", please do not download in other places, otherwise it will damage the original map.
Update map time: once a year .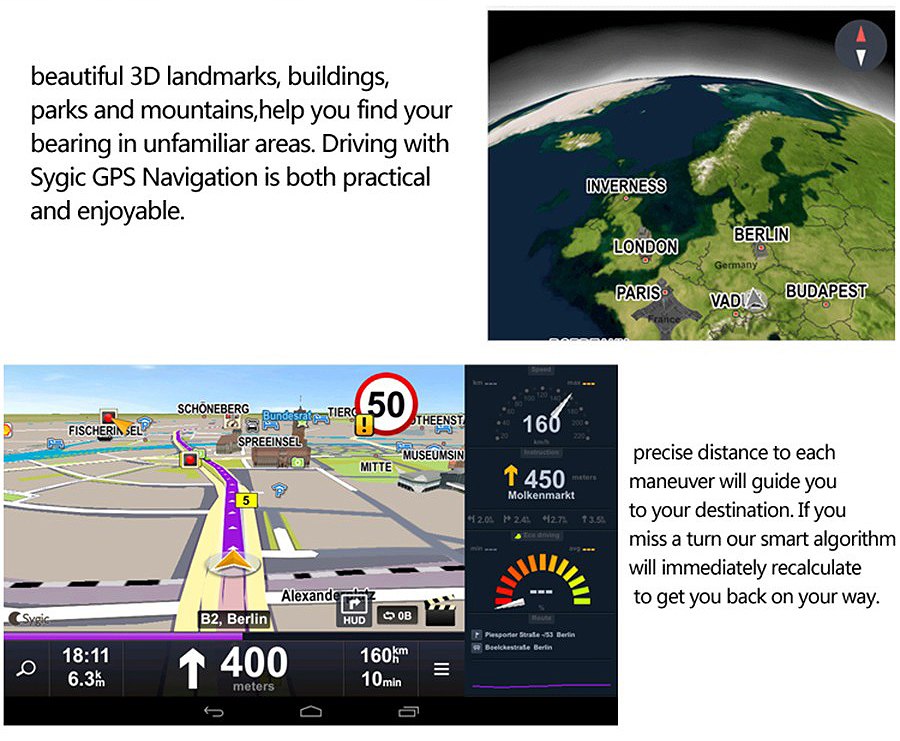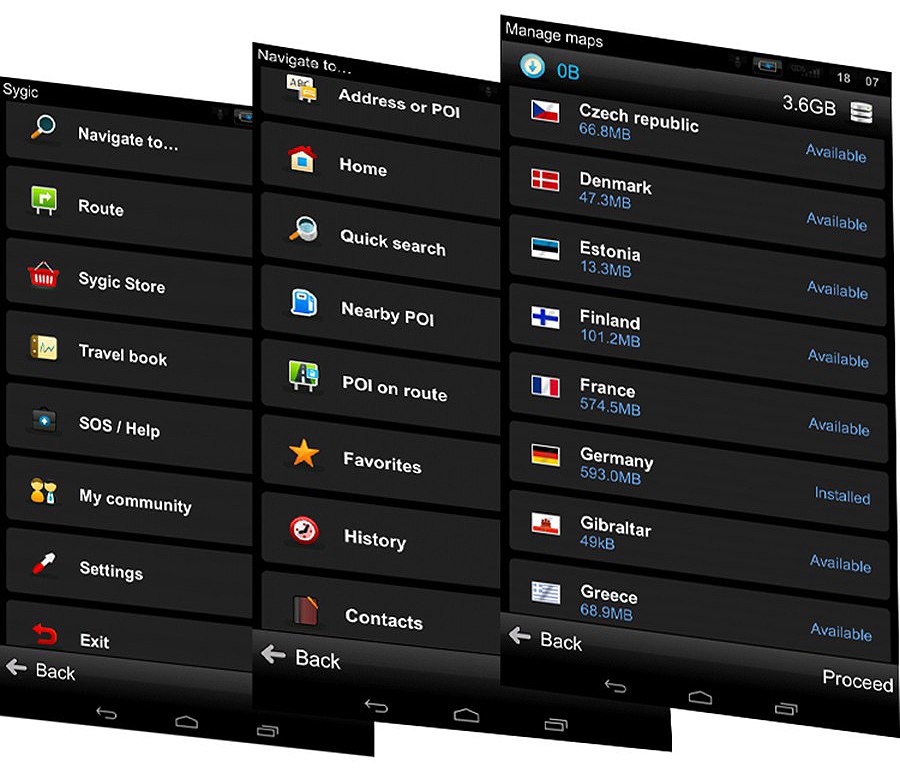 You will have experience as using your mobile phone, for the screen is large 6.5 inch.
Super screen displays,ideal for watching HD movies playing games, browsing the web,
or reading the graphics with bright colors,  and provides detailed maps views, all in this 6.5 inch.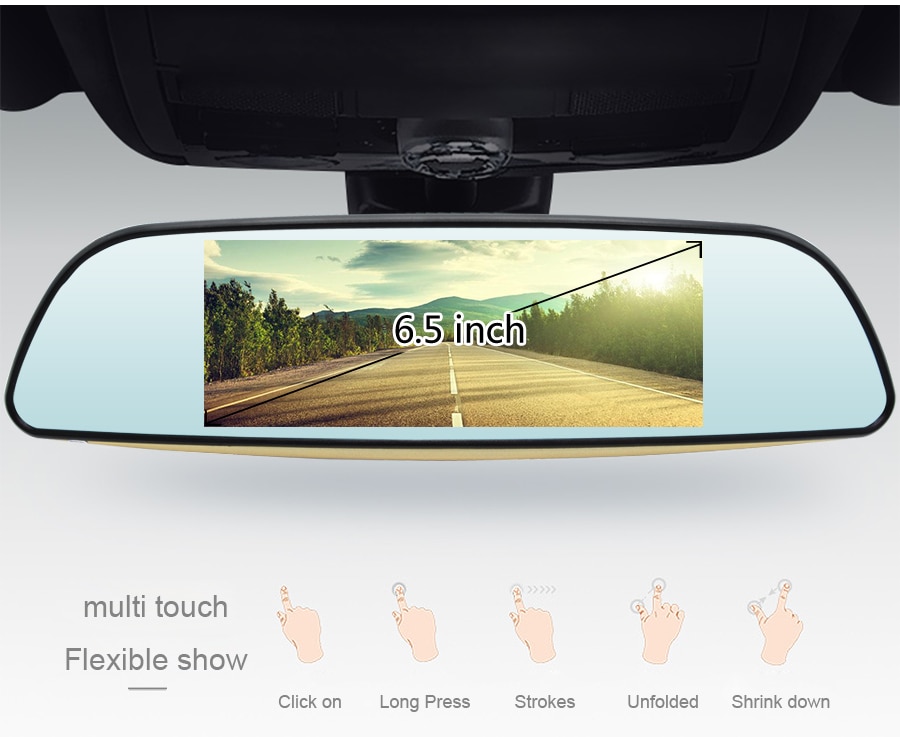 Android 5.0 Lollipop systems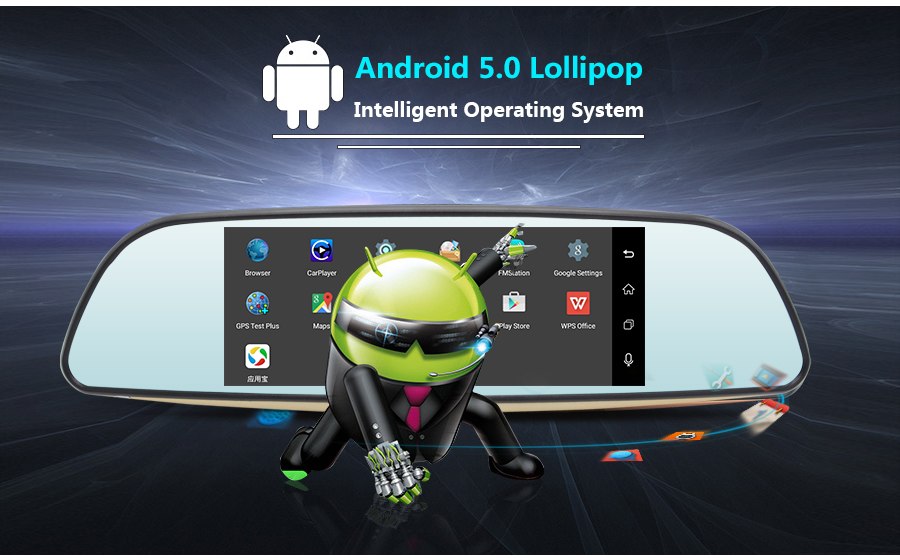 MT8382 Quad-core 1.3GHz
Built-in MT8382 quad-core processor, strong performance
And then with 8G large memory, a strong processing power, run more smoothly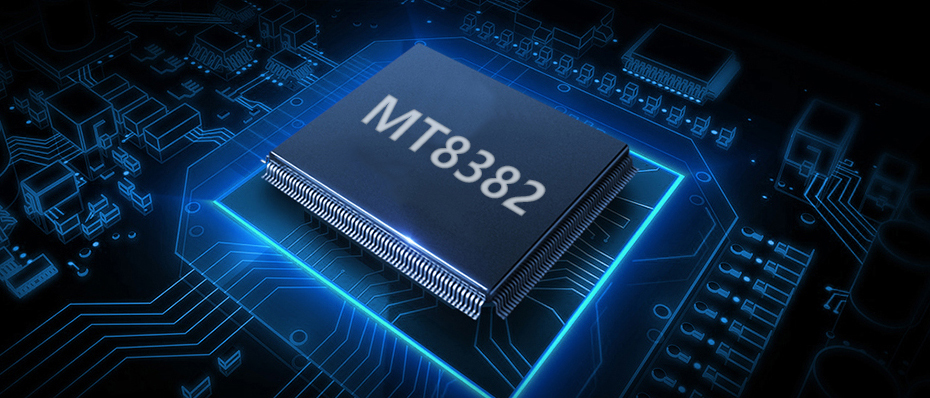 Bluetooth Hand-free
Thanks to bluetooth hands-free, after pairing the bluetooth between dvr and smartphone,
you could make and receive calls directly from the mirror dvr itself with the built-in MIC and speaker.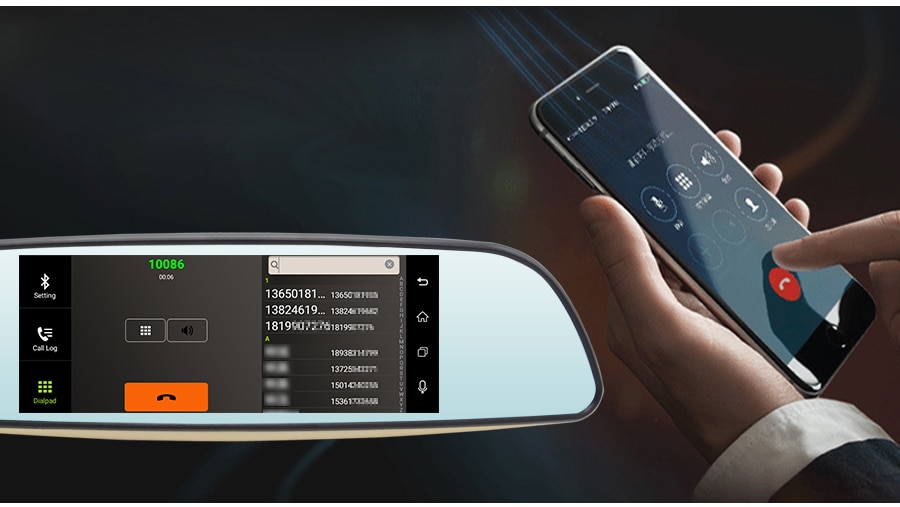 FM Transmit Function
Do you like to listening to music while you drive? Thanks to the FM transmission function,
you could synchronize the mirror dvr music to your car audio with ease.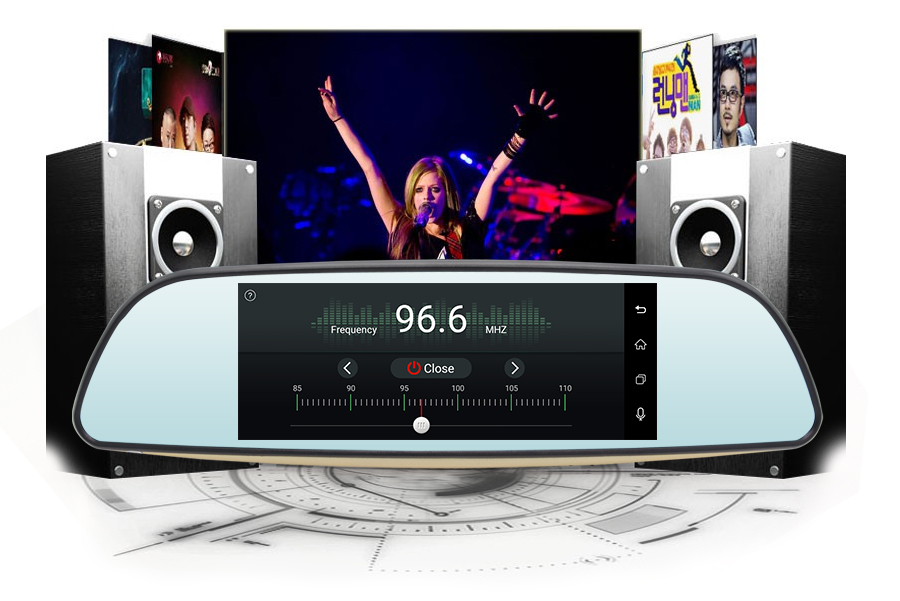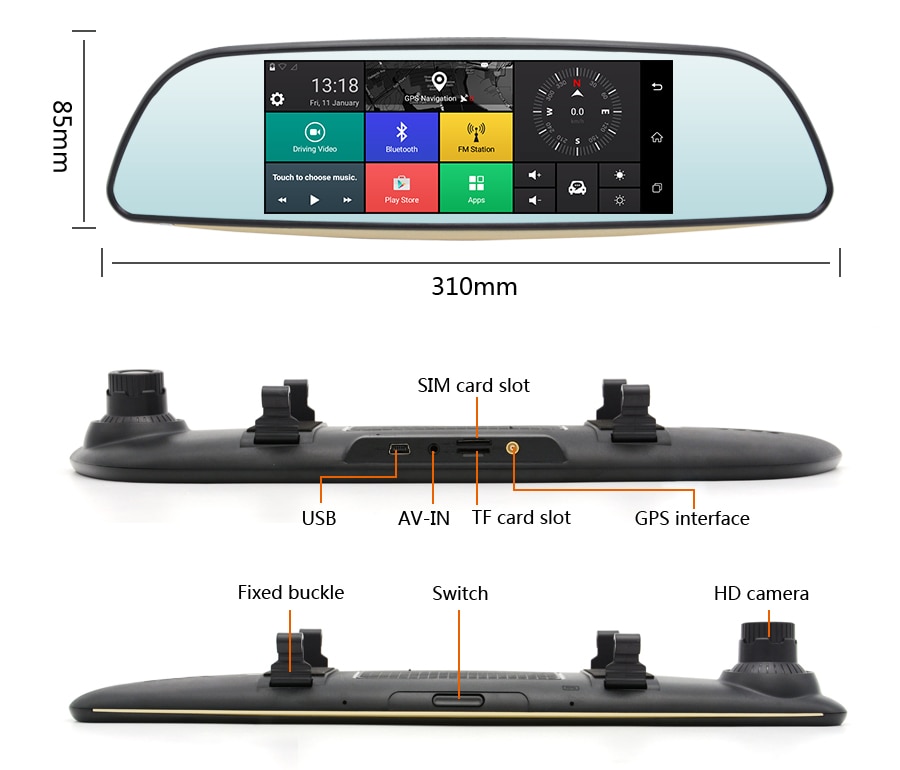 User Interface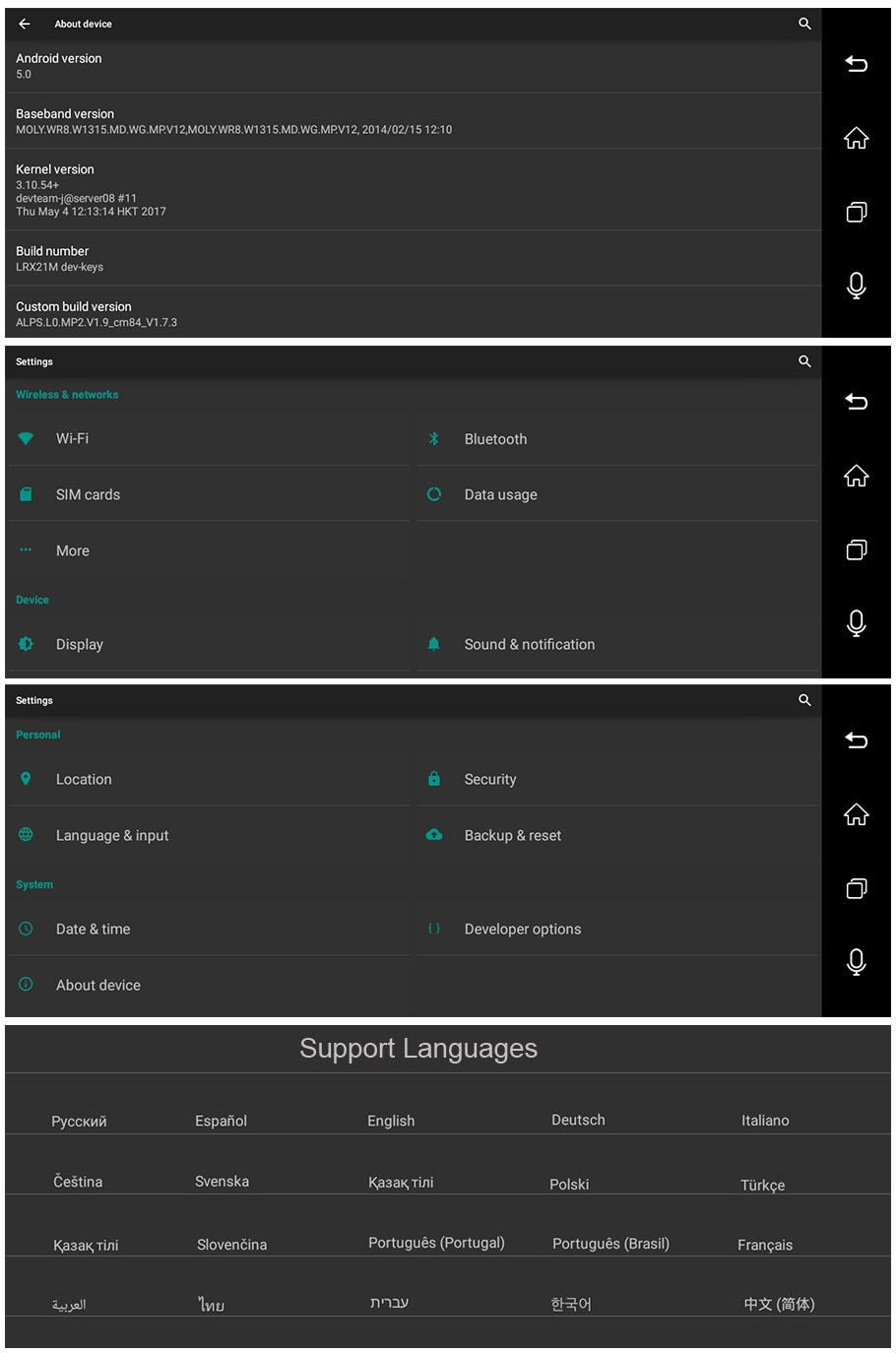 General Information
Screen size
6.5 "IPS touch screen
Chipset of CPU
MT8382 quad-core 1.3GHz
Screen Resolution
1280×720P
Built-in
8GB
Cache
1GB
wireless network
Support 802.11 B / G / N, you can set the car DVR as a WiFi point
Rear view
Stand by
Parking monitoring
Stand by
3G
2G GSM(1900/1800/850/900); 3G WCDMA B1 (2100)
Wifi
Support
Bluetooth
Hands-free function
FM
Support
Dual lens
Support
GPS navigation
Support
Charger
Connect car charger use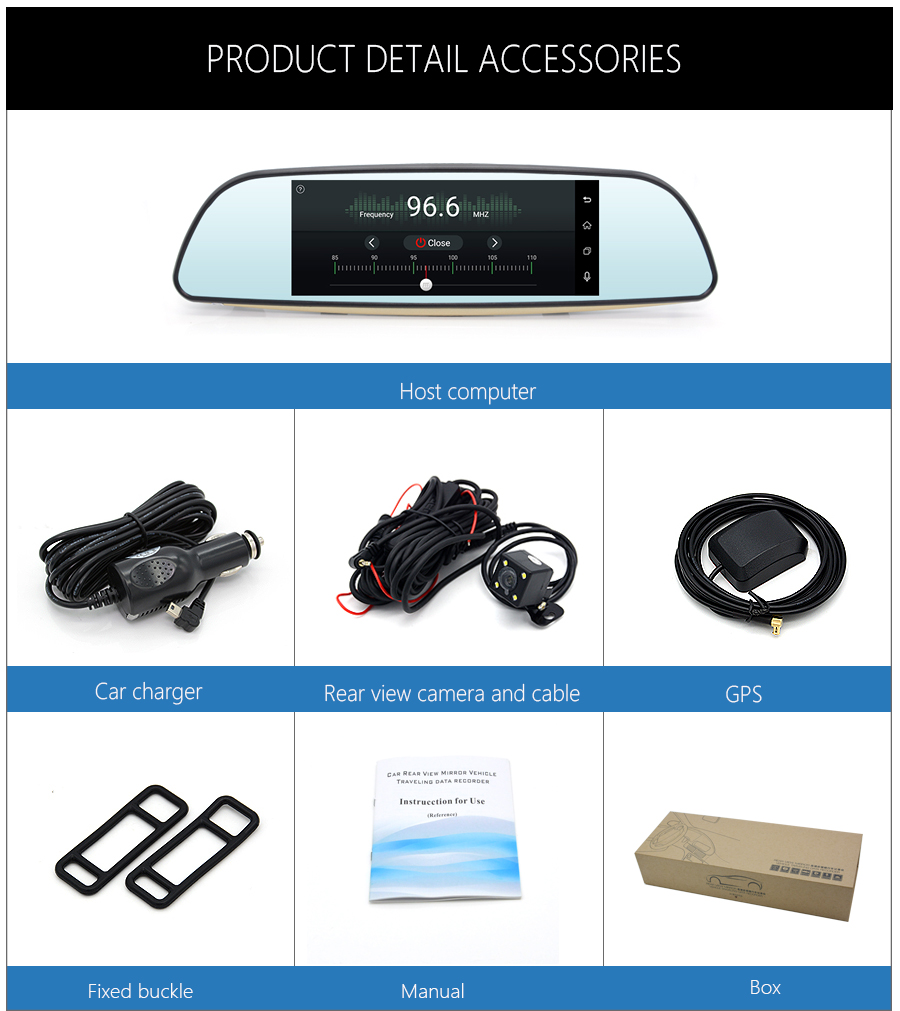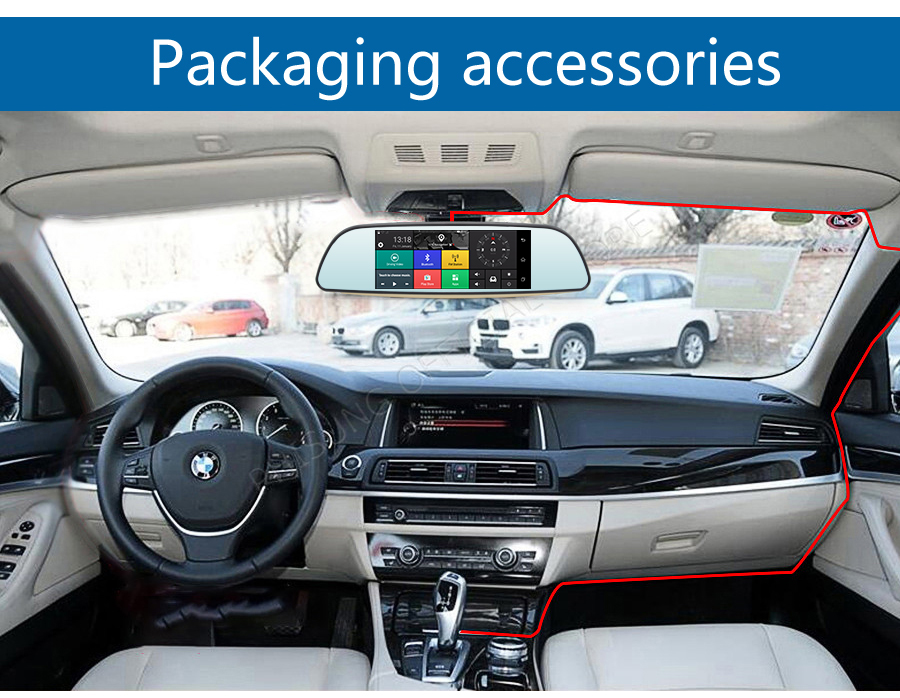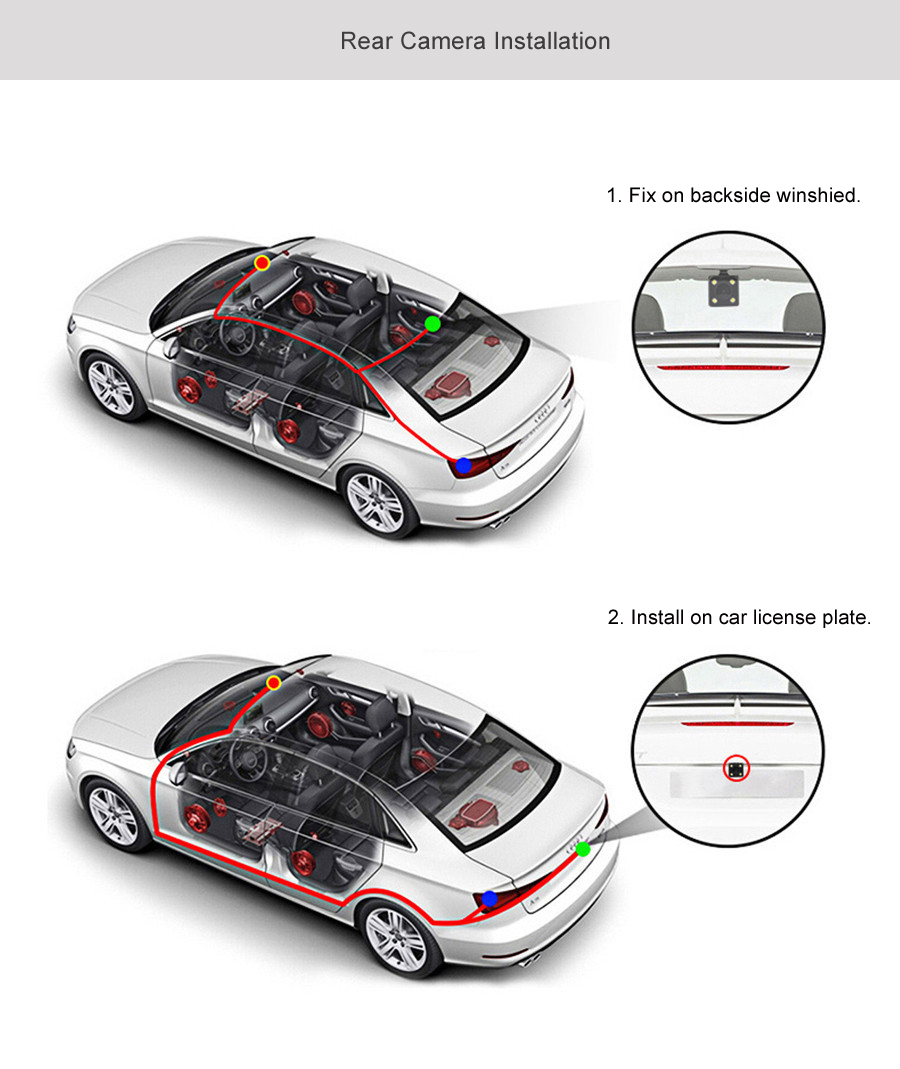 Notice:
1.When you insert the SIM card correctly, but can not surf the Internet, please check the data of 3G card
2.We recommend using original APPs of devices only.
Q: Why the device goes sleep every 5 seconds?
A: It can use only when connect the car power. Please make use connecting your car when running the device.
Q: The device can inter the 3G card but can not connect the internet.
A: Please check weather the data of your 3G card was use out. If the date was use out, you can connect Wifi hotspot from your cellphone. Pay attention to your date when watching videos online.
Q: The SD memory card can' t be read in device.
A: Please try to format the SD card on your computer several times and try again.
Q: how can I update the map ?
A: when the map update , we will upload the map to the dropbox, and share the dropbox link and the  install method  to you at the first time . And updating map free of lifetime.
 Q: The device has flash on the screen.
A: please don't worry, the devie need to update. Please conatct us and we will send you the latest firmware for update.
Q:How to change the language ?
A:Click setting –other –Verison(click 3-5 times )–more –language
You can refer to this video: