Product Description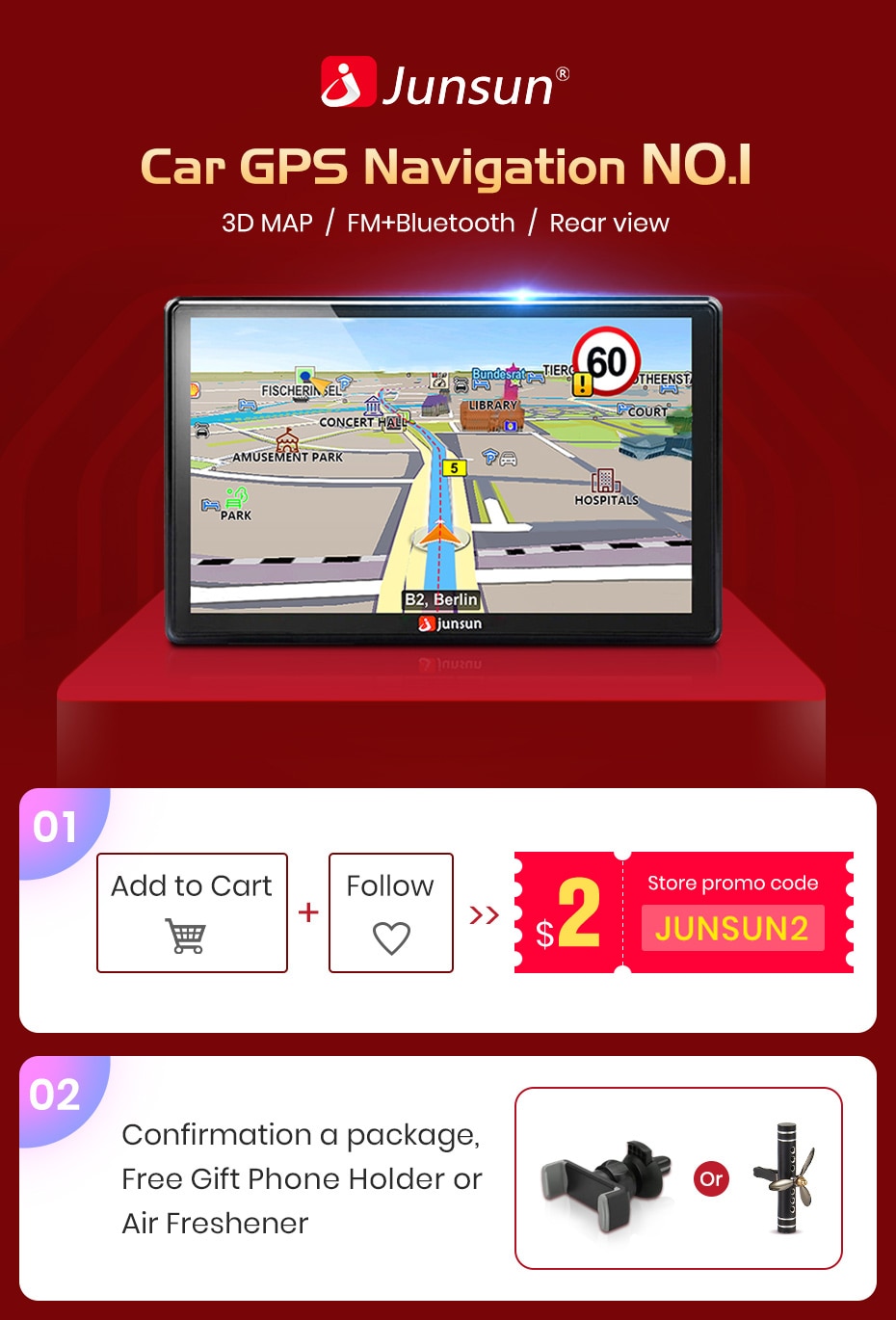 >> Why choose Junsun ? 1. AliExpress Top 10 Brands, worth to trust; Junsun Official Store has 1000K + fans, popular among customers. 2. All products have been passed strict quality test before shipment, make sure high quality. 3. After verify payment will ship out within 48H from China warehouse, and 24H ship from local warehouse, ES,EU,RU,PL Warehouse Delivery.(Working day time) 4. If the product has a problem within 365 DAY after confirming the receipt, we will replace the new machine directly for you,But Please contact us first to resolve the after-sales problem. This warranty does not apply to damage caused by accident, abuse, misuse, or modification of the product.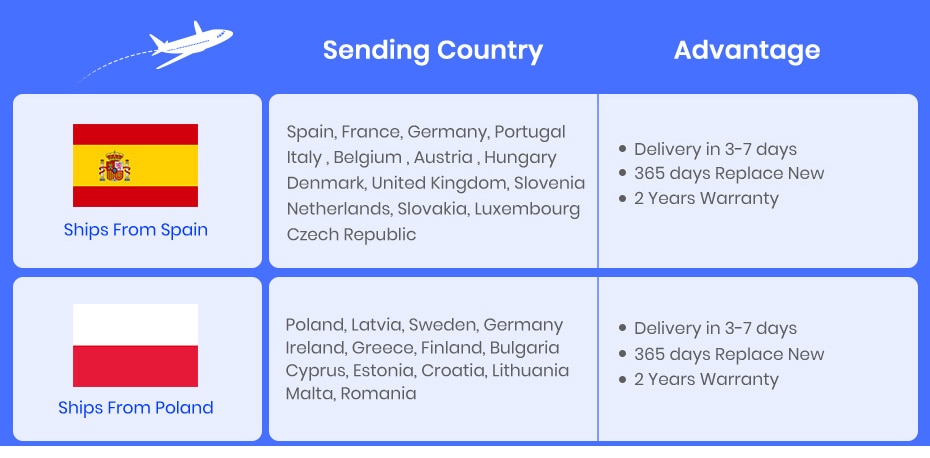 Junsun gps navigation features:
> No.1 GPS+ 7-inch capacity screen+ Support Bluetooth (optional),wireless transmission, answer the phone+ Support rear camera (optional)+FM, the navigation voice and music will be directly sent to the car speaker+ 3D navigation,no need to worry about the complex viaduct and the maze crossing > Support multi-Language: Russian,English,French,Spanish,Italian,Portuguese,German,Hebrew,Dutch,Swedish,Turkish,Polish,Finnish,Lithuanian,Norwegian,Serbian,Bulgarian,Hungarian,Estonian,Indonesian,Azerbaijani,Ukrainian,Slovak,Slovenian > Best Gift for your Friends and Families > 24H*7 Service Supporting At Junsun, our goal is to keep working hard to make innovative hardware & software of the gps navigation to give you that personalized experience. We provide updates for Firmware, GPS Navigation maps for FREE.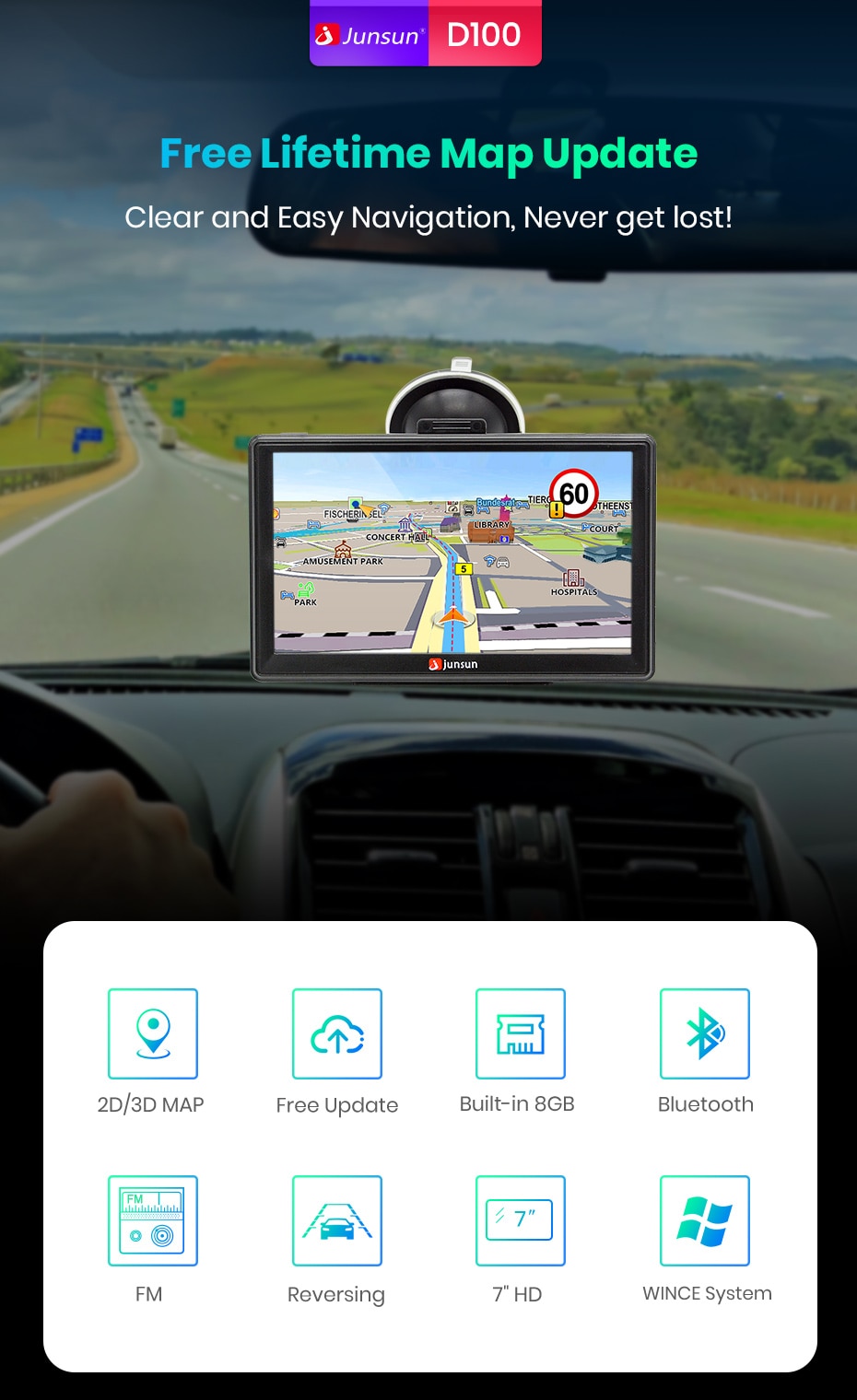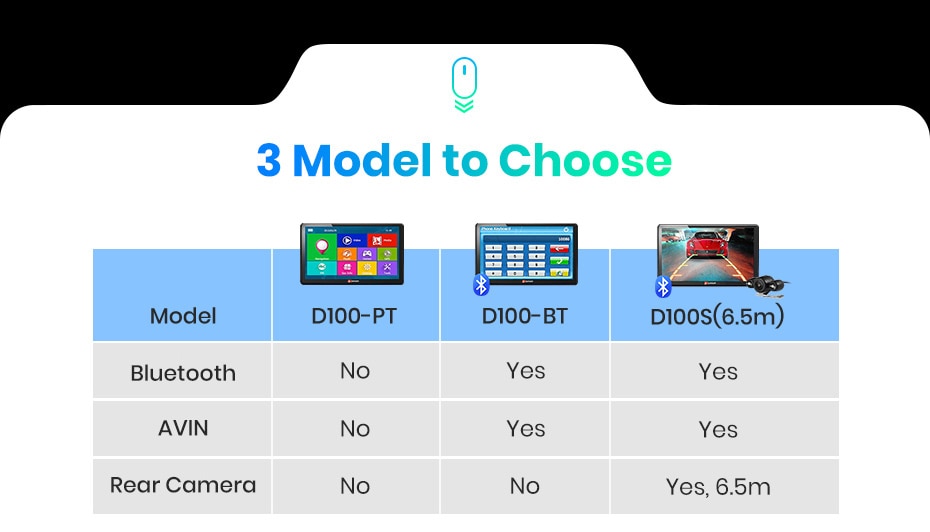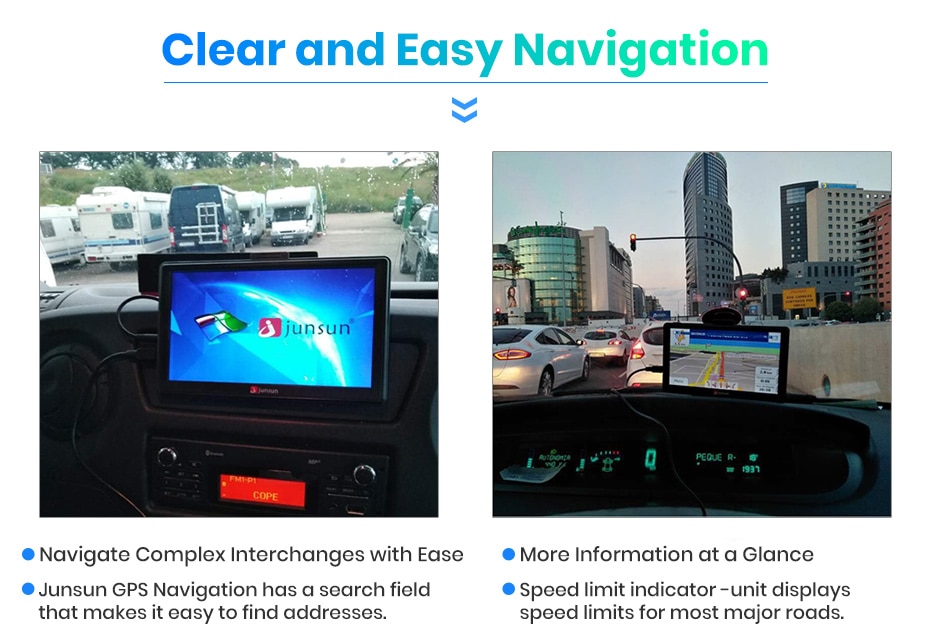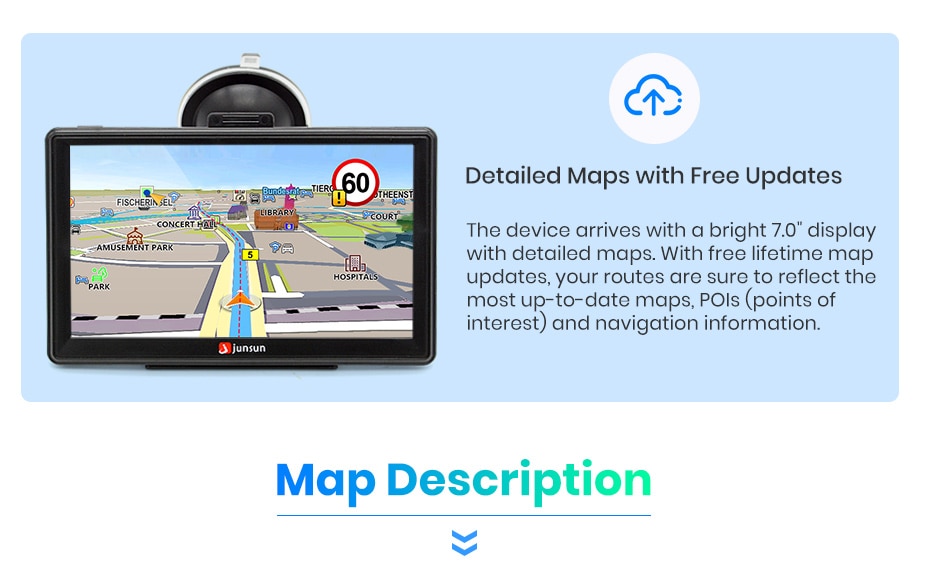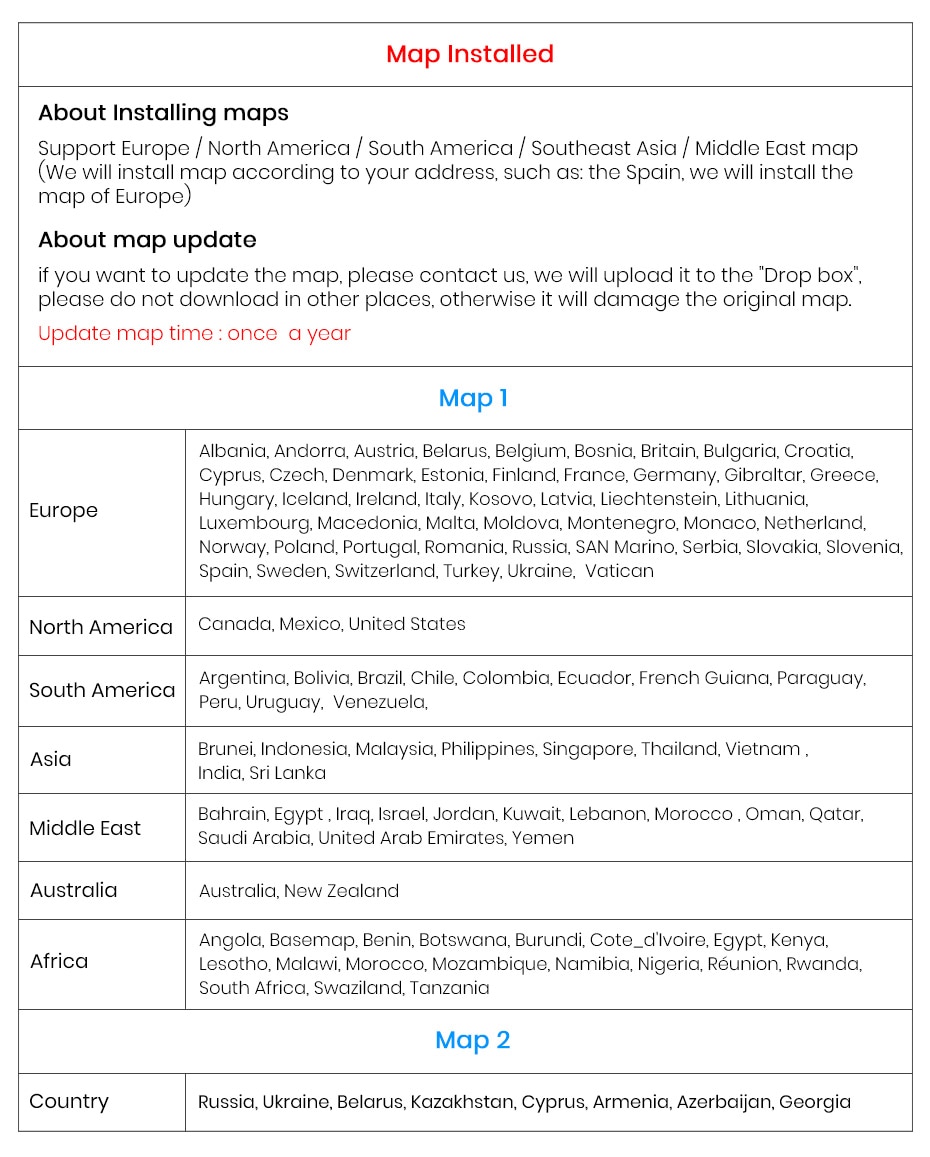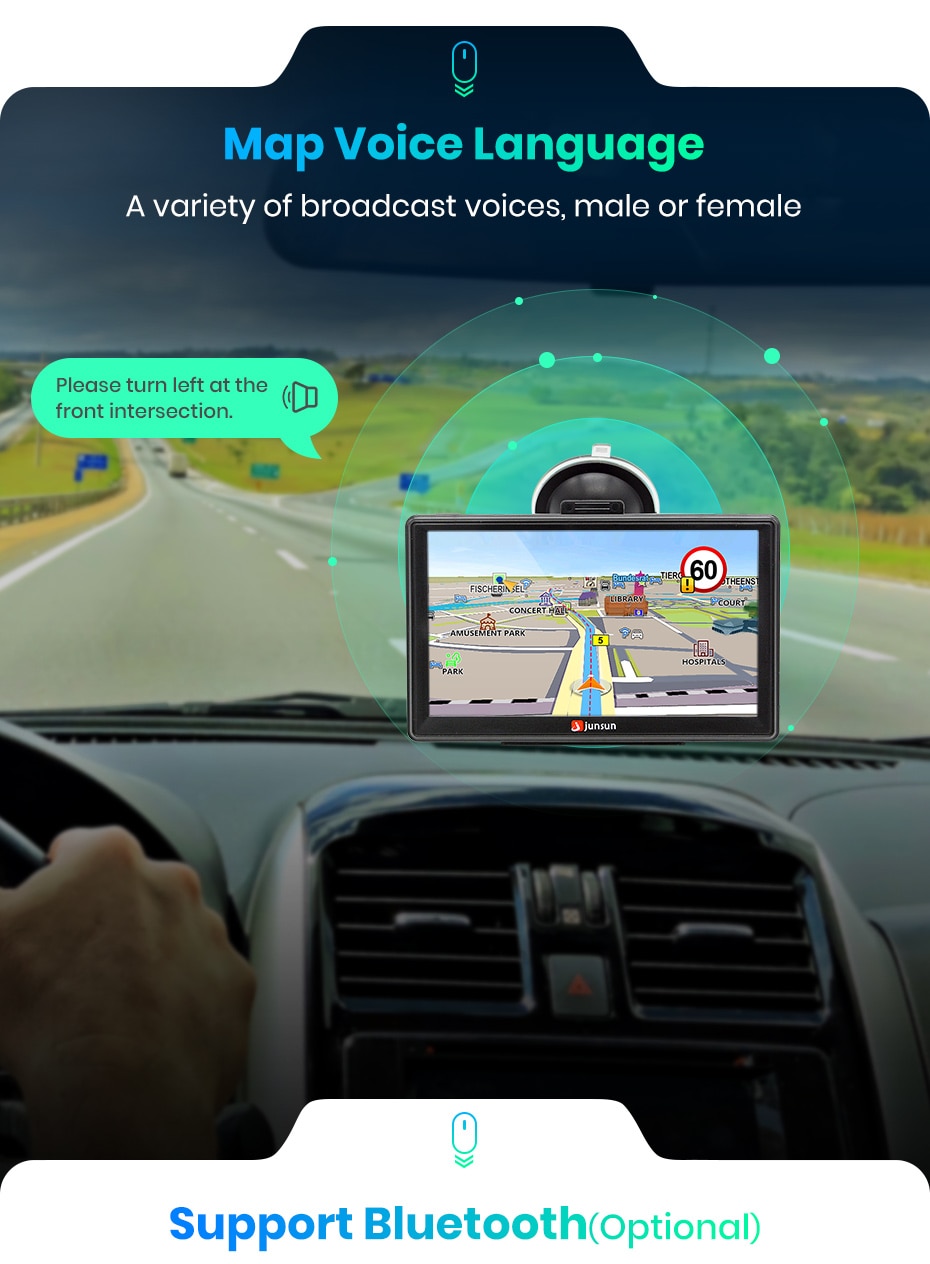 Wireless transmission, answer the phone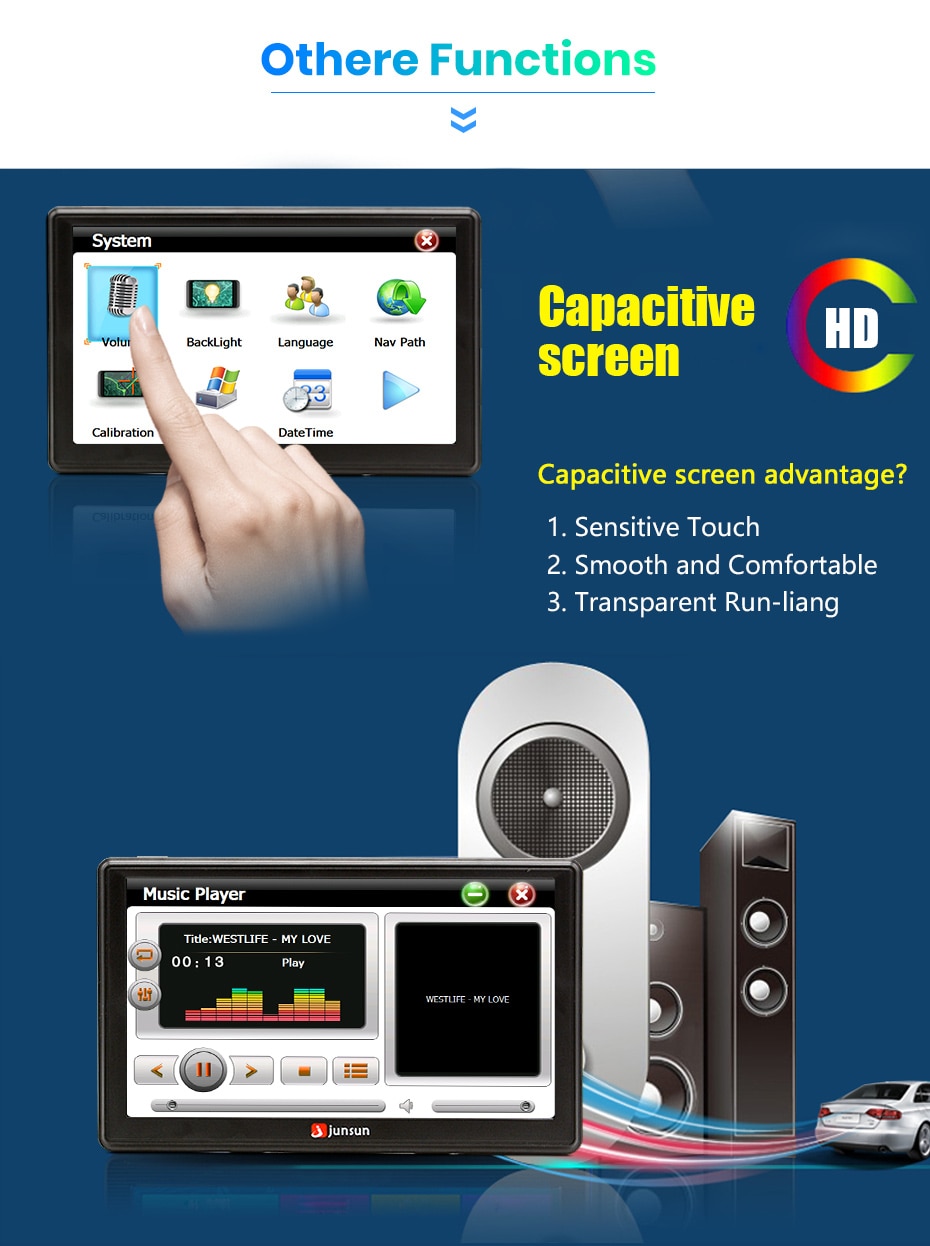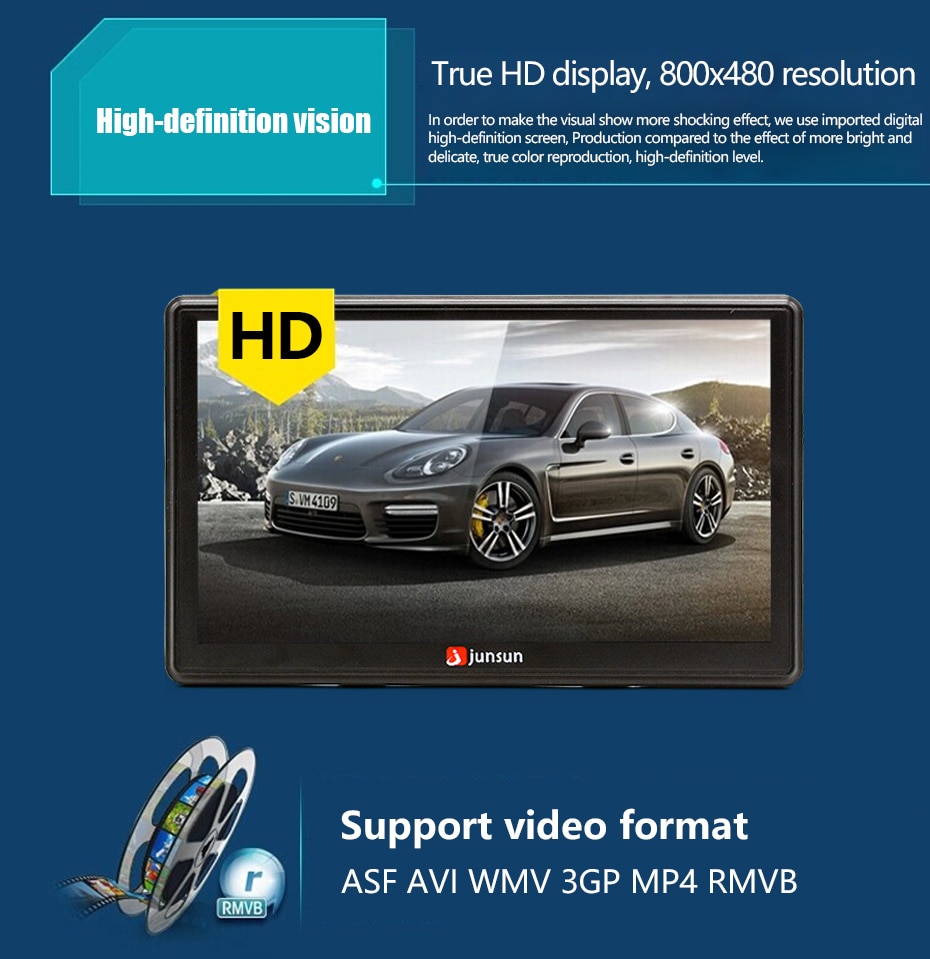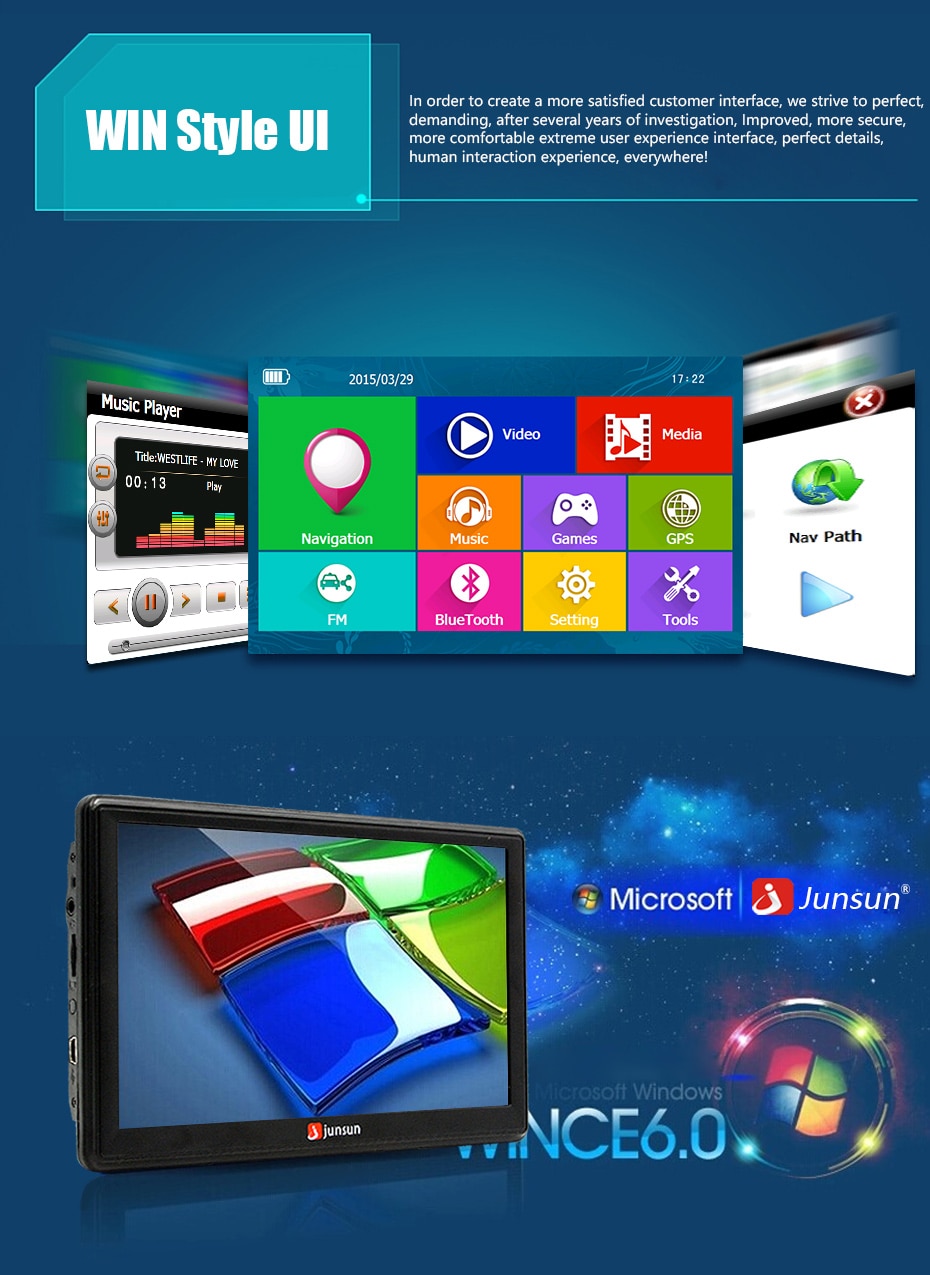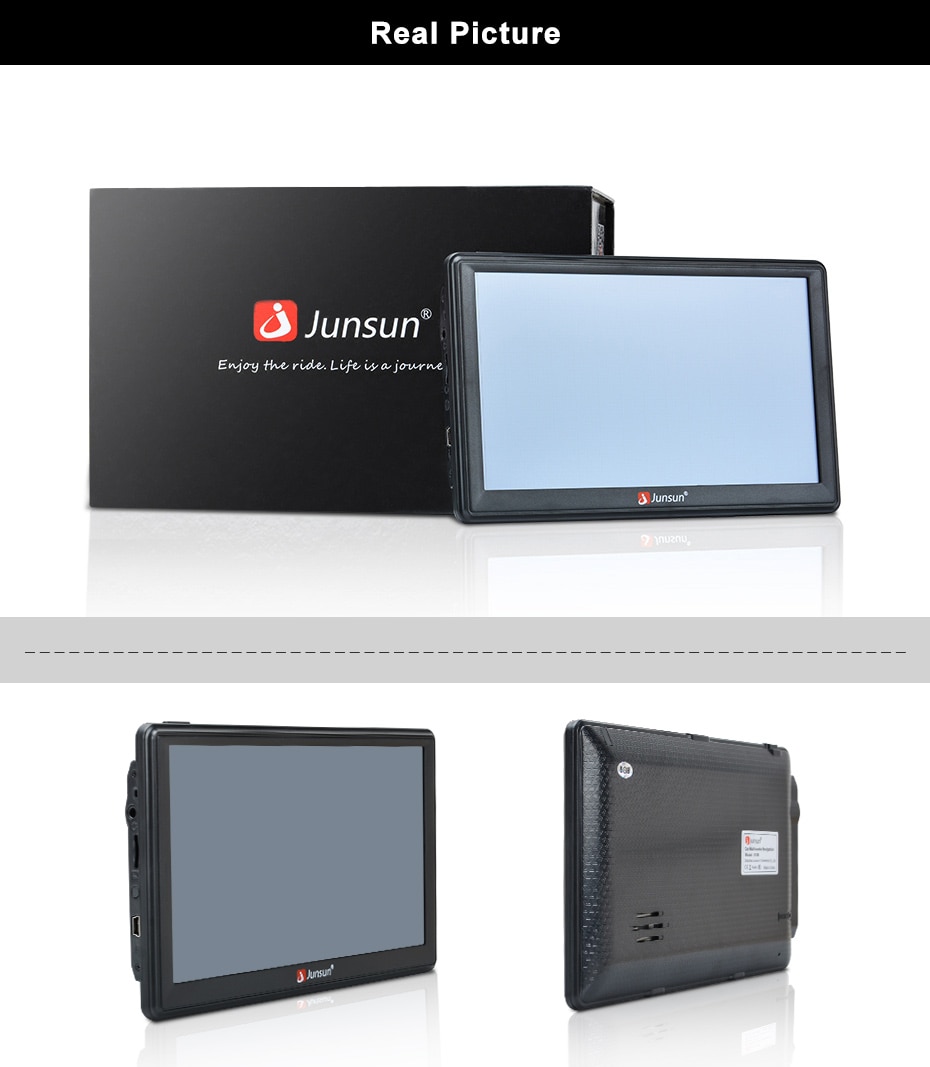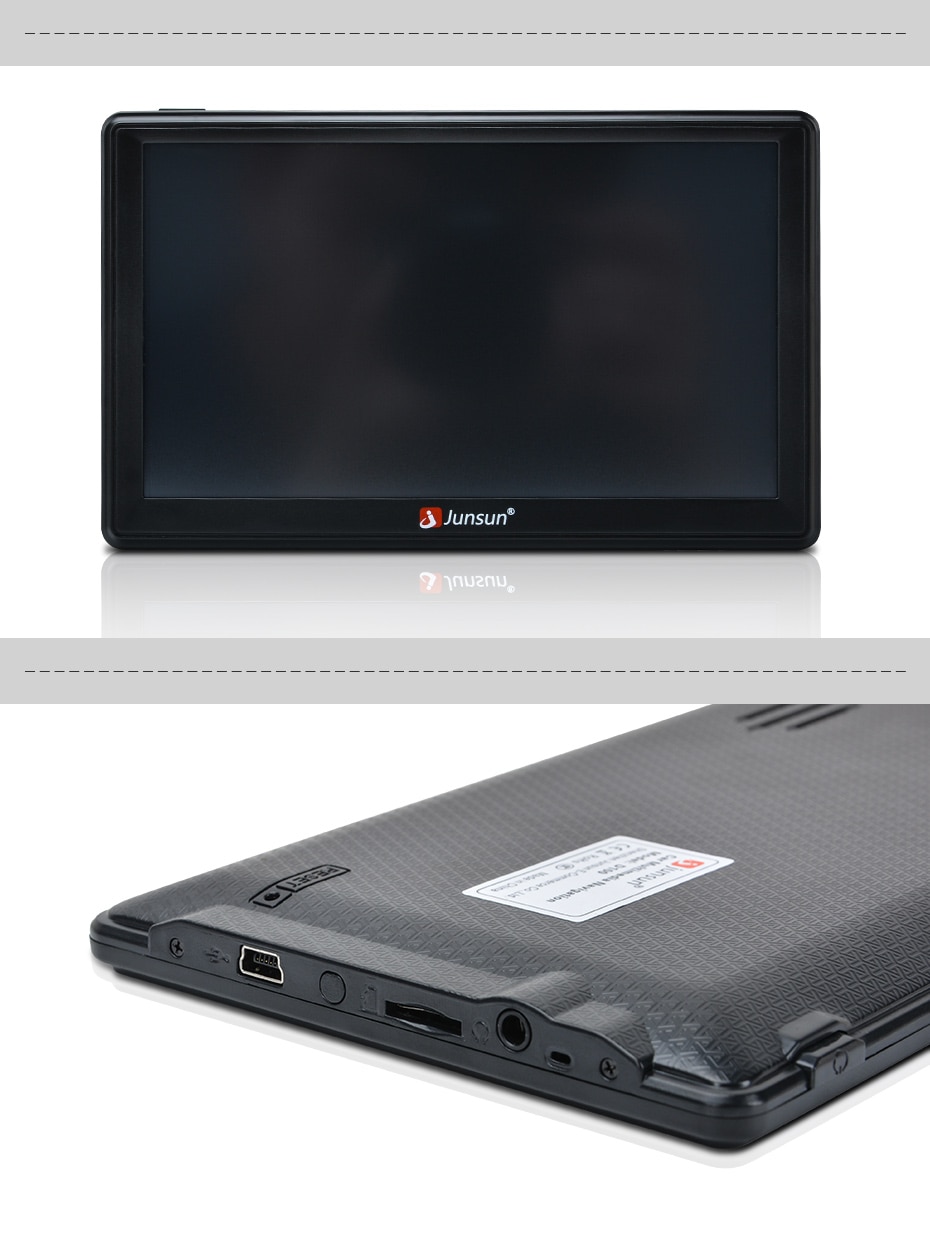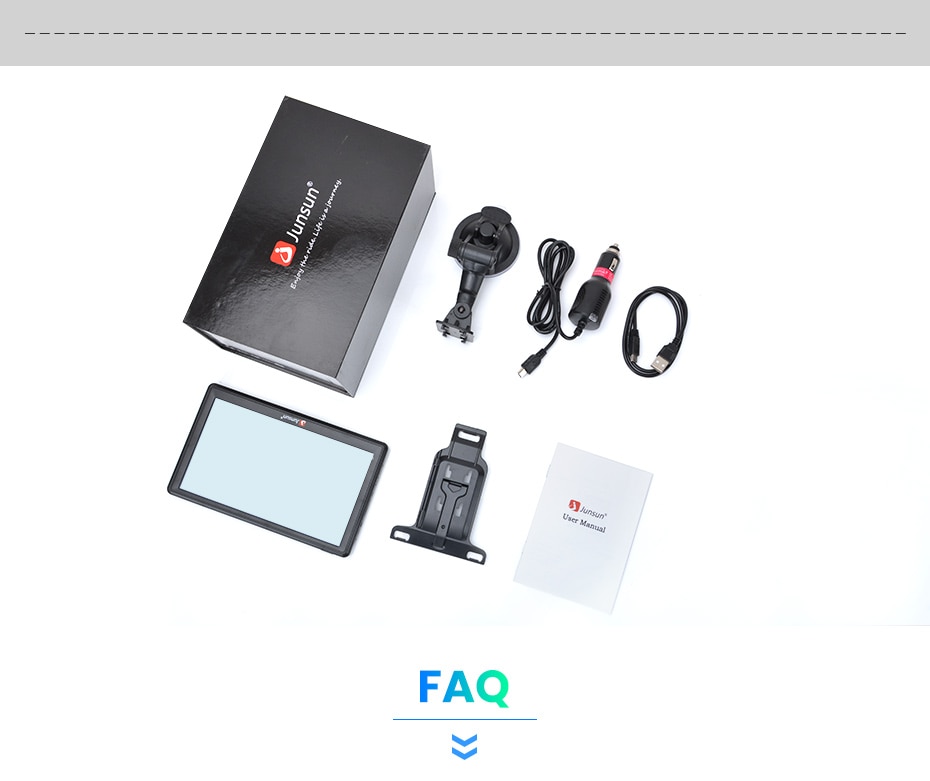 Q: The battery can't charge and run the GPS. A: The battery in this GPS are not designed to last a long time like a mobile phone. Considering the full battery charge as more for emergency use. battery just assistant the GPS normal working. Plug in your car charger while driving will be better. Please connect your car power when running the GPS. Q: Why the Map freeze and the device reminder 'program memory is low? A: Because the map file damage or lose. Please re-download the newest map. Go to our company website – download the newest map – use a USB cable connect the device to your compute – delete the original map – download to map. Q: When I click Navigation Icon, it has nothing happen, can't enter the map? A: Please set the Navi Path: Navi Path—Navigation Path—Resident Flash, set step by step, until it shows ".exe", if still can't set, please contact us! Q: Why it can't receive the satellite signal? A: Satellites broadcast signals to enable GPS receive the information of the Earth's surface to locate and synchronized time. The most common factor that interferes with a GPS signal is "Urban Canyon" (The high rise building and skyscrapers block and weak signal receiving), weather (bad weather will Weaken the GPS signal) and car protect film. So if you cannot receive signal, please go to an open area to receive signal. Q: The GPS has no sounds. A: Please turn off the FM. Q: The GPS can't turn on when receiving the order. A: Please charge for half an hour and reset it for 3-5 times. If it doesn't work, please contact us and we will help you update it. Q: Rear view camera cable connect A: First of all you need to determine the "+" and "-" of your car's reverse light, the rear camera has two wires, red wire and black wire. The red wire connected to the "+" of the car's reverse light, the black wire connected the car's reverse light "-", and then connect to the device AVIN jack. Video of operation Please view the video for simple operation of product. If there is any problem about it, feel free to contact us. Thank you Video: https://youtu.be/1K9GwWvnVOs