Product Description
Features
Easy to Operate: Simply connect your speaker/headset with our device, immediately transform your speaker/headset into a fashionable wireless Bluetooth speaker/headset.
Wireless Play: Removing troubles of wired connection, through the wireless connection and transmission, the user can enjoy a high fidelity music at any place indoor by wireless control.
Portable Design: Mini size with clip design the feature of portable can let you carry them to anywhere you want.
Support for iPhone, Android phone, other smart phones which with Bluetooth A2DP function.
Compatible with home stereos / speaker, car stereos, headphones that is with 3.5mm audio input.
Specification
Type: Bluetooth Audio Receiver
Material: Plastic
Frequency Range :2.4GHz
Profile: A2DP
Transmission Range: Up to 10m / 33ft
I/O 3.5mm female plug, Mini USB female port
Power Supply: DC 5V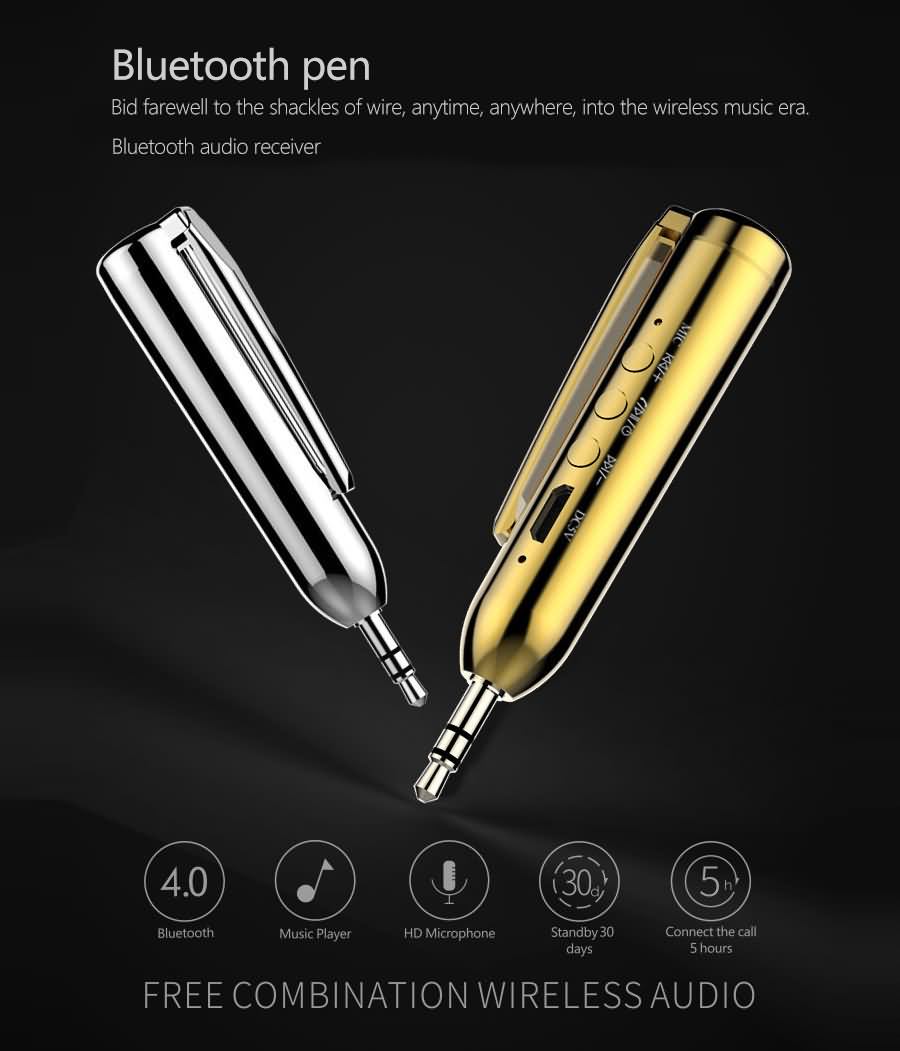 How to use it for iPhone 7?
Fpr Apple 7 with Lightning headphones hole is not the traditional 3.5MM headphone jack,
although presented the adapter, but the charge and the use
of headphones can not be carried out at the same time!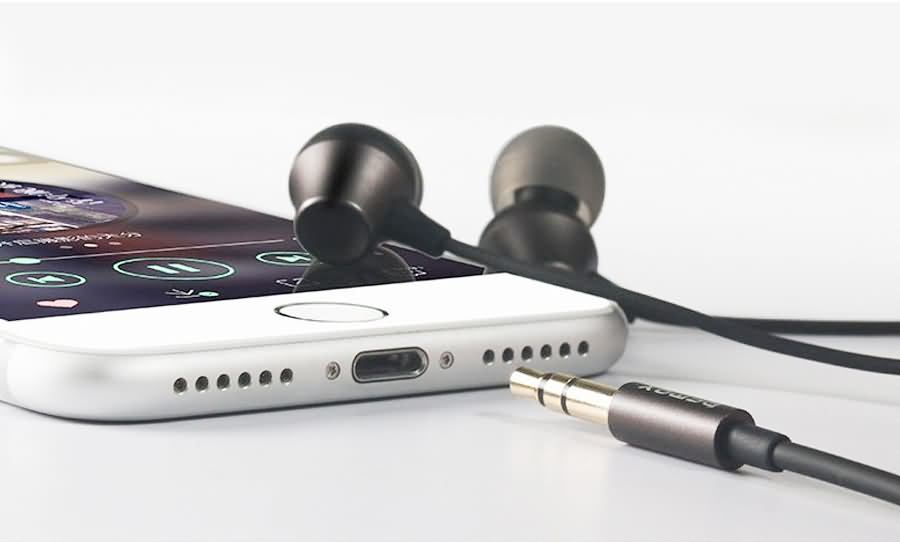 Small design to solve big problems
Using Bluetooth 4.0 version, such as audio, headphones and other equipment with 3.5MM
AUX interface, you can connect the phone / tablet and other Bluetooth devices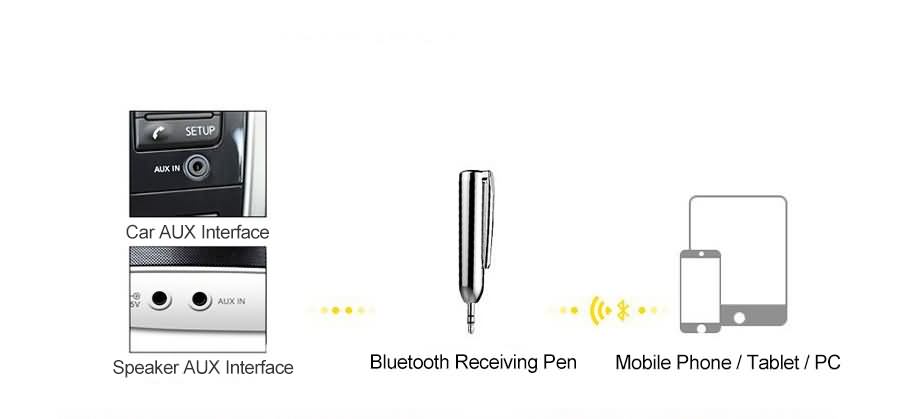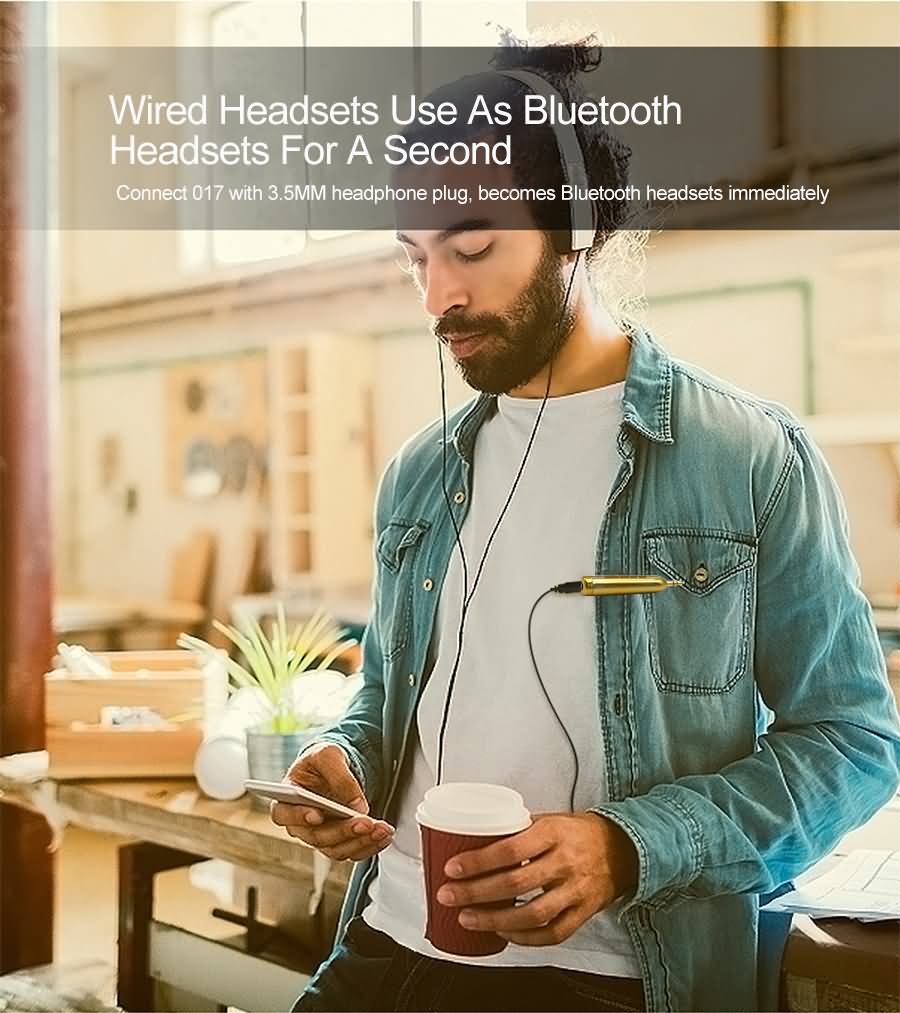 Anodizing process
Small cool shape, enjoy the music at the same
time more fashionable cool feeling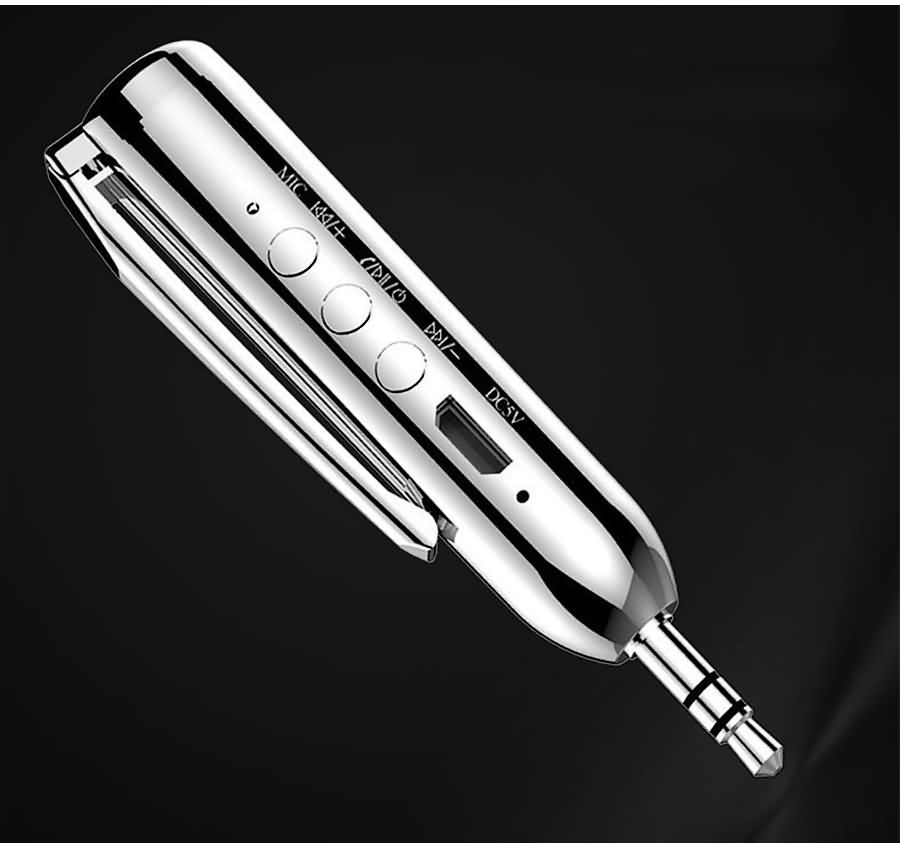 Walkman music
Fitness exercise, and the afternoon of the rest, get rid of the inconvenience of carrying the phone,
so that music with freedom, surrounded by your side.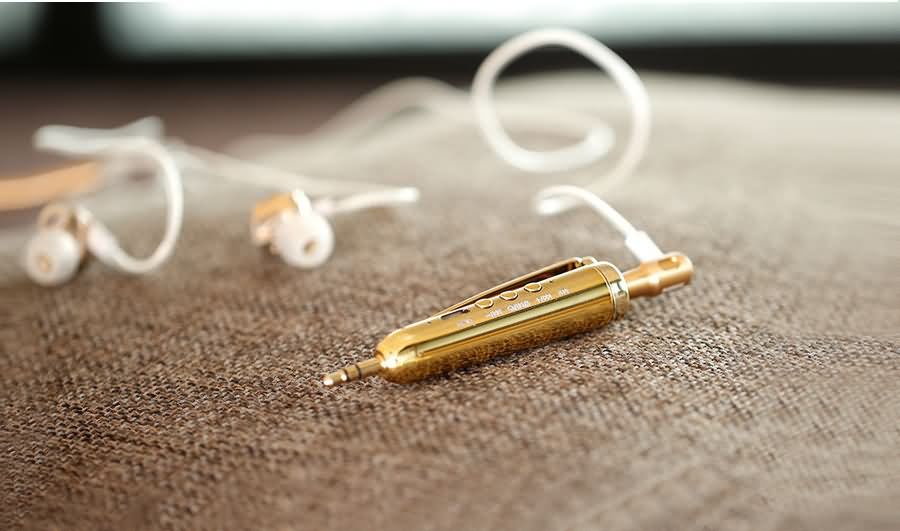 Bluetooth 4.0 version 3D surround sound, 
let the music move with you
Fever-free loss of Bluetooth access, fresh sound, tri-band balance,
excellent resolution, to reproduce the different colors of the instrument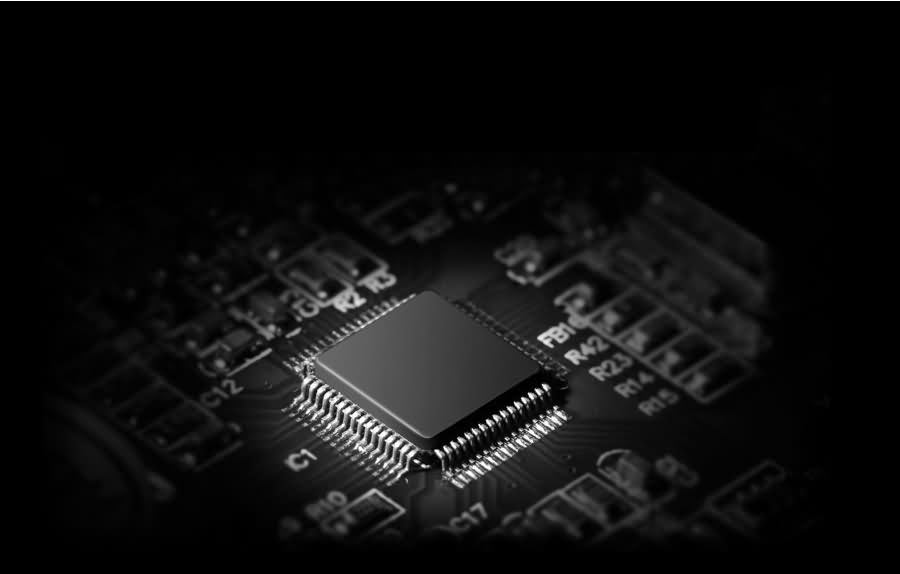 Input and output AUX port access design
Plug the heart, AUX female base and public connection can be wireless Bluetooth,
the use of more convenient and user-friendly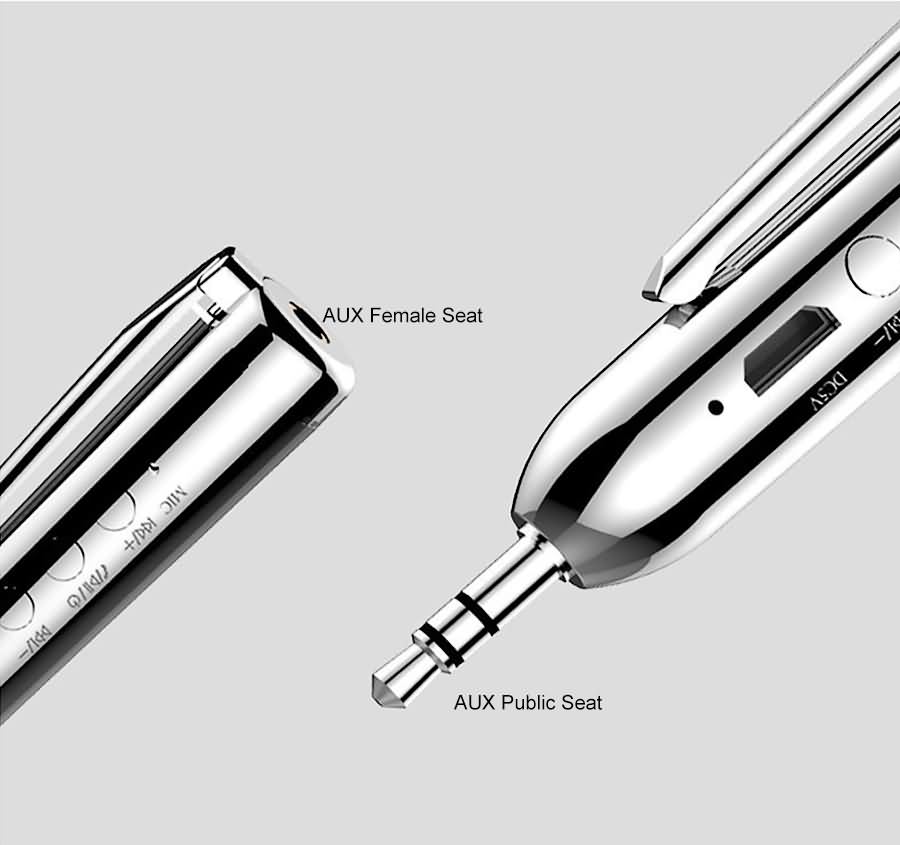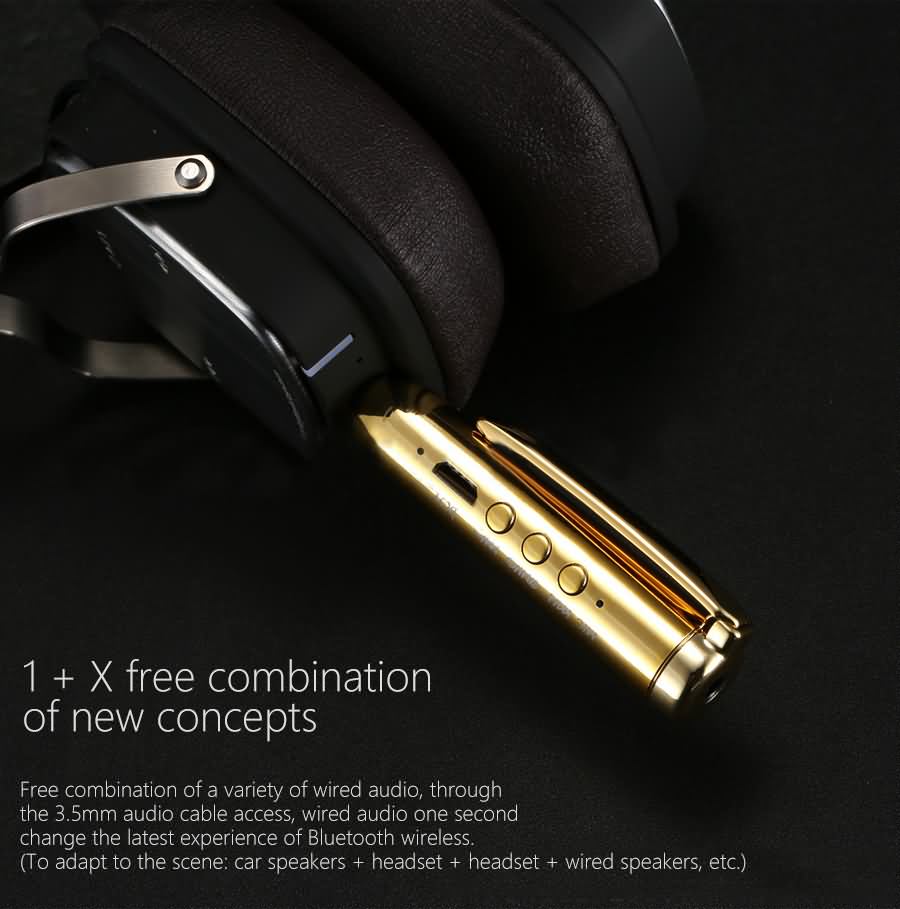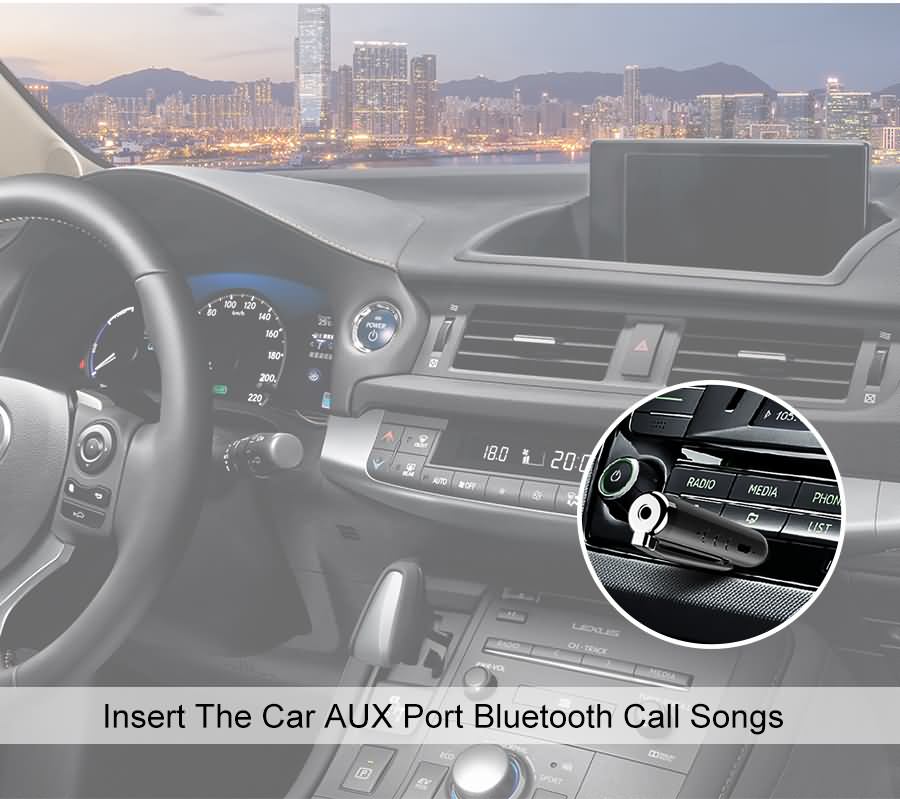 Wired speakers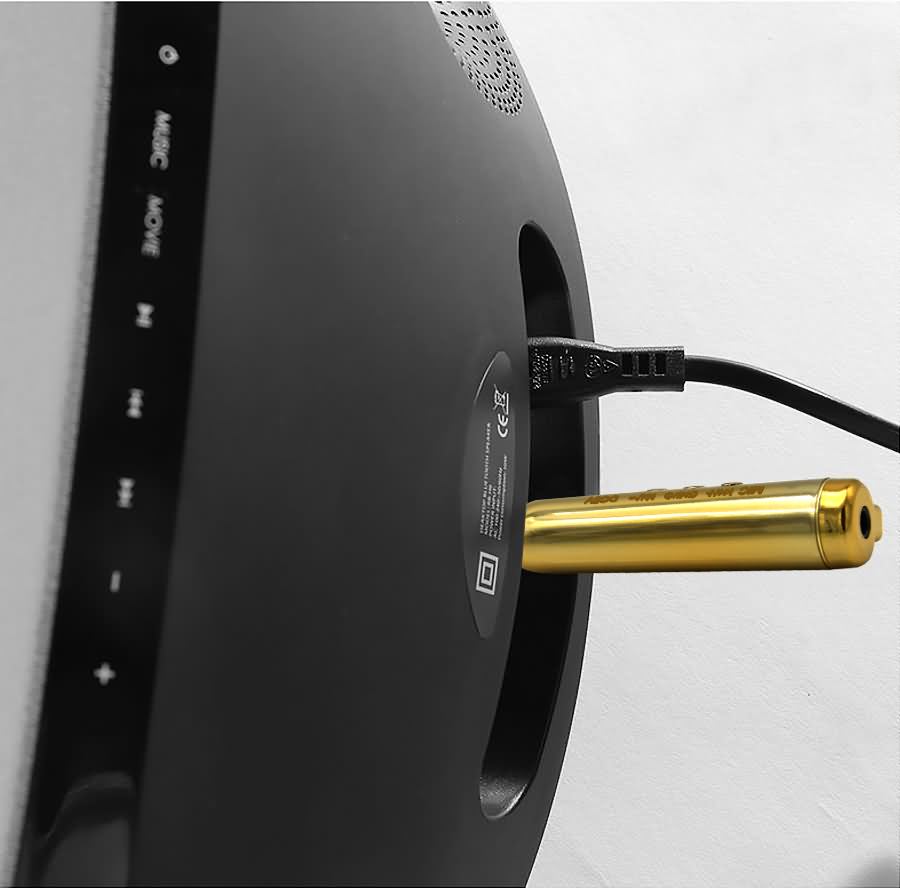 Scene graph display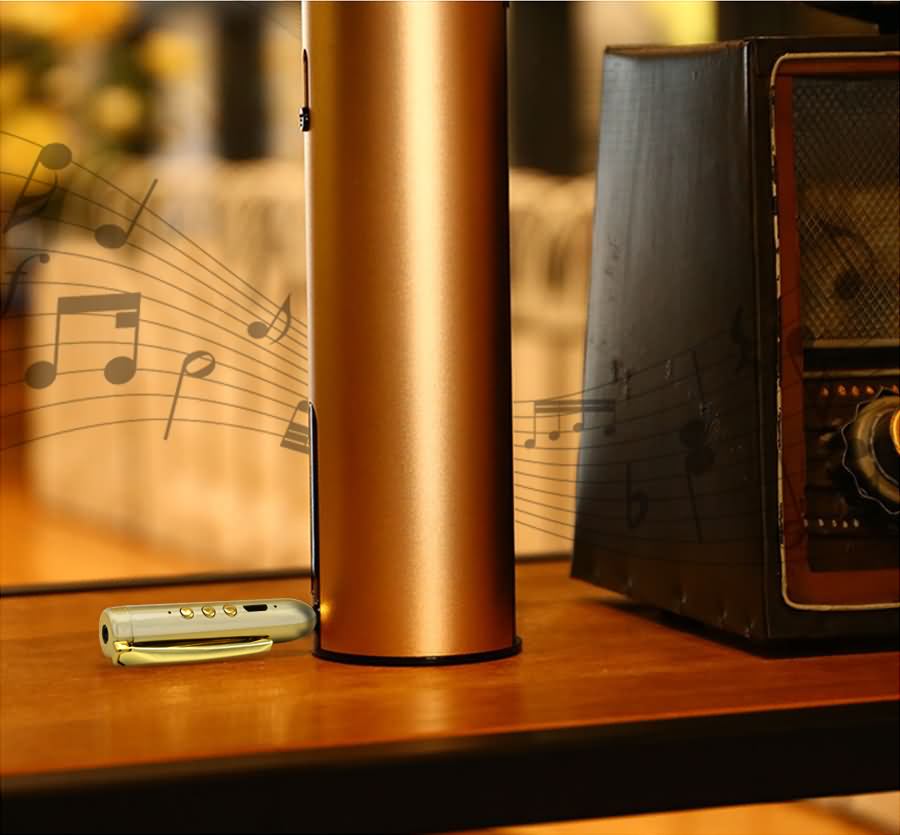 Long standby
30 days long standby time, up to 5 hours of call time, use,
no longer worry about the lack of electricity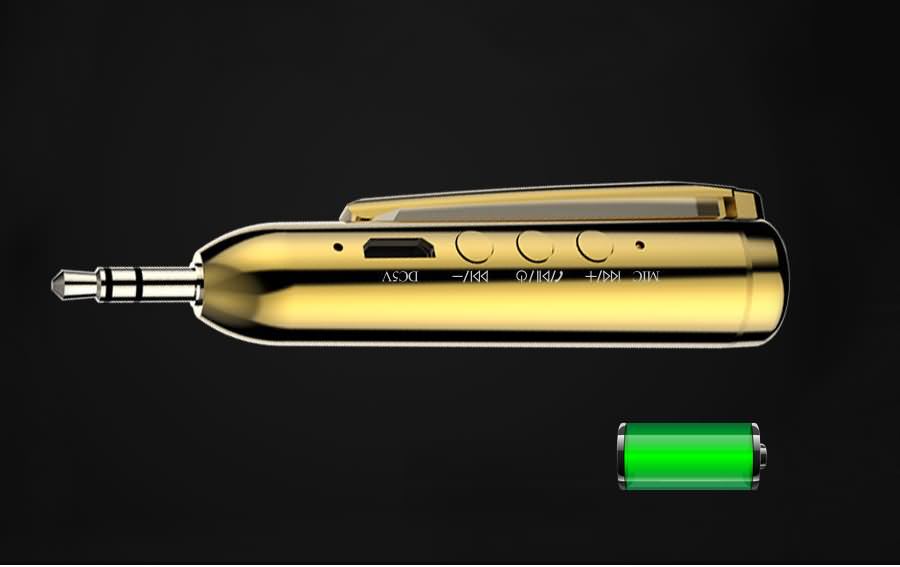 Smart Bluetooth HD Talk Experience
Built-in high-definition microphone, with advanced voice input noise technology,
you can get high-quality voice input effect, give you high voice talk experience.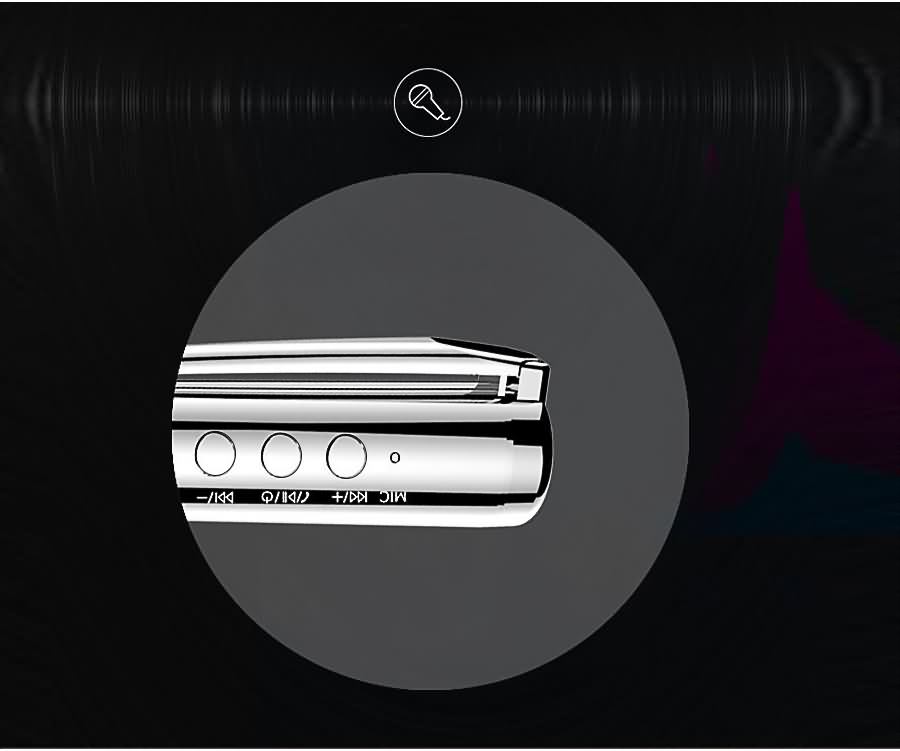 Intelligent full compatibility, cool experience
iOS, Android system; intelligent full compatibility, you think,
you did not expect, make you impeccable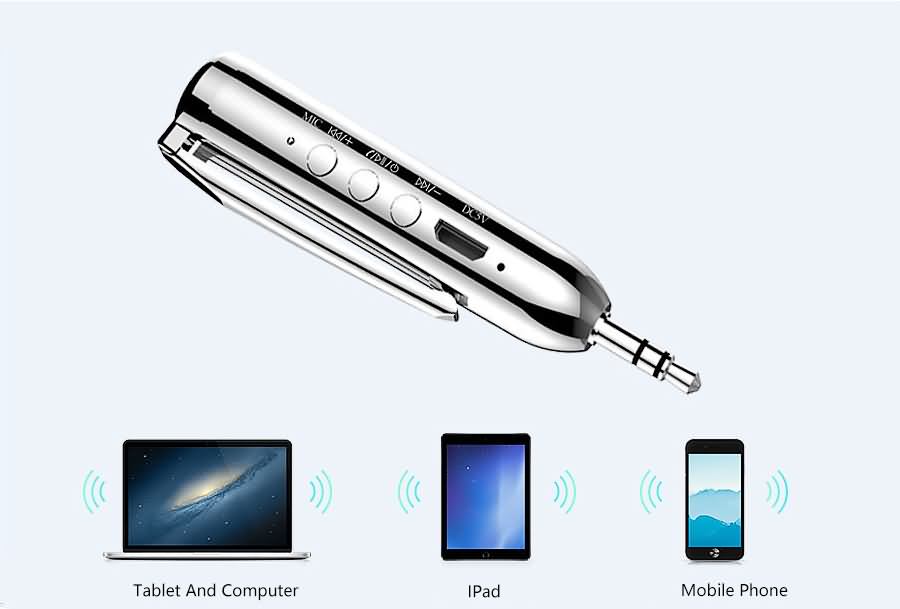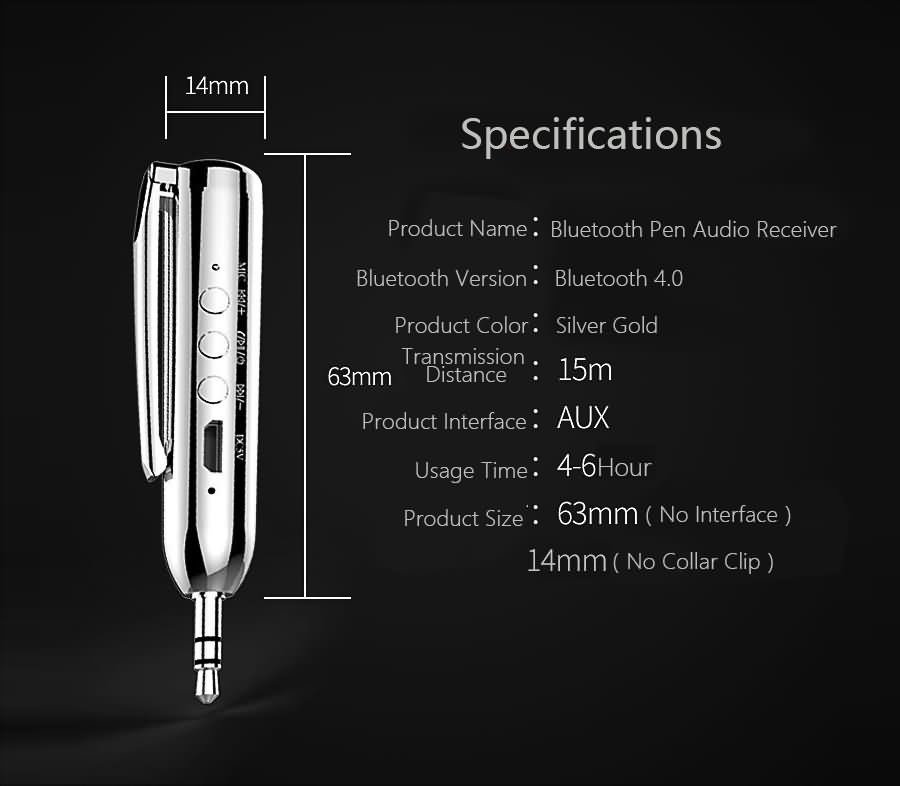 Multi-function operation
Multi-function operation, answer / hang up the phone,
the volume + -, song switching operation handy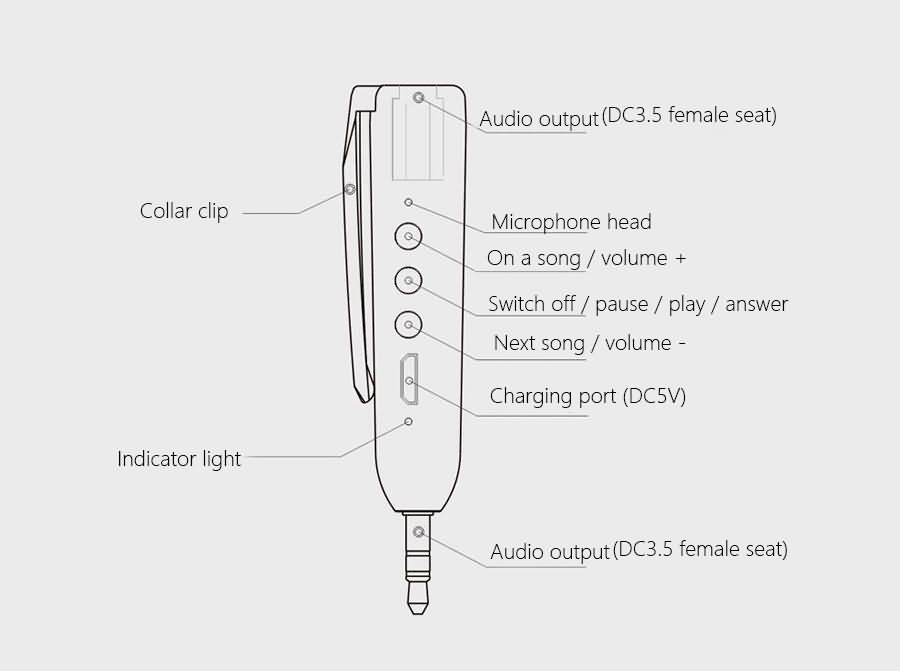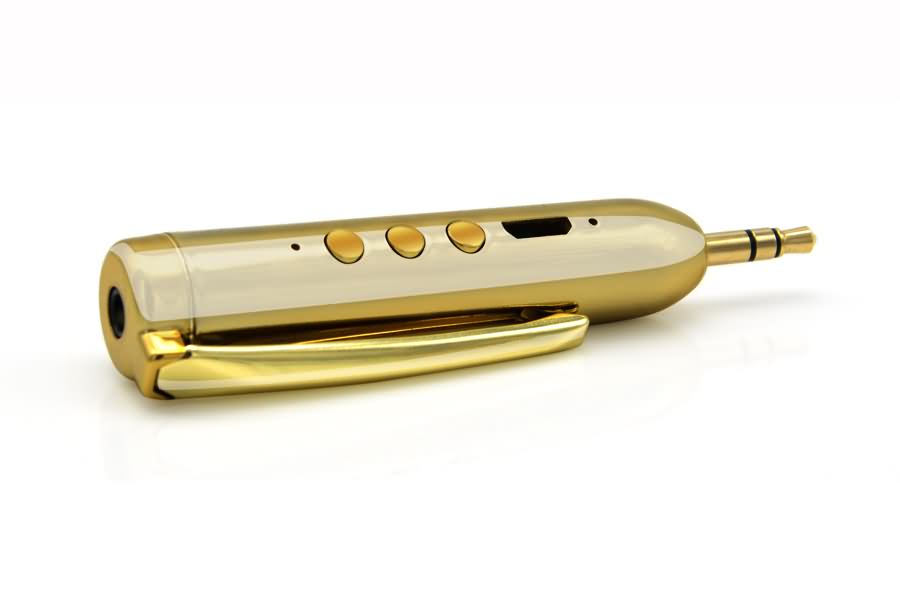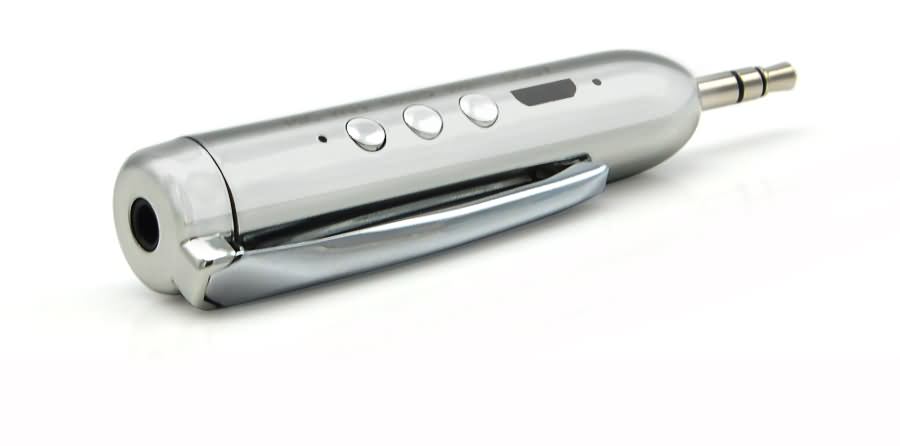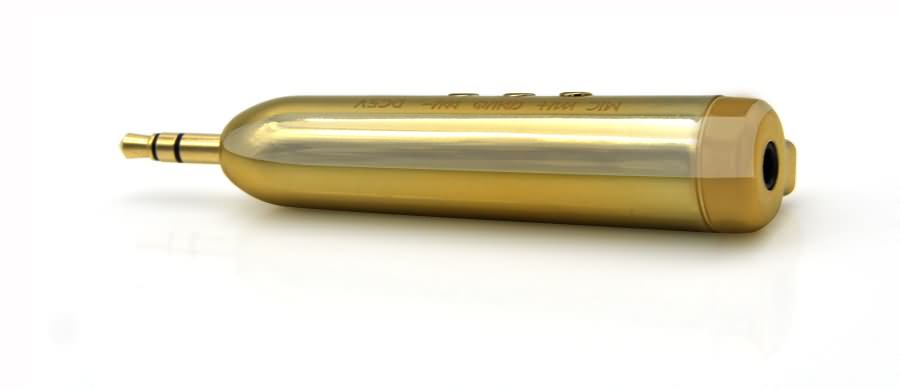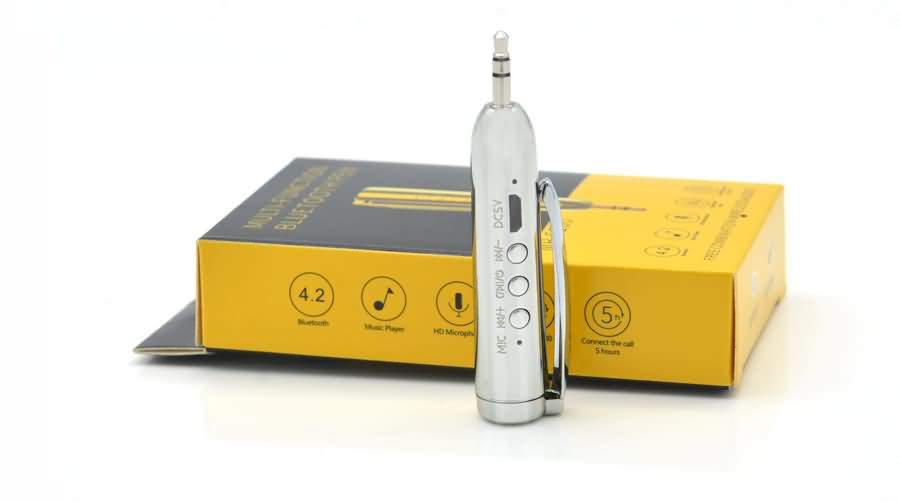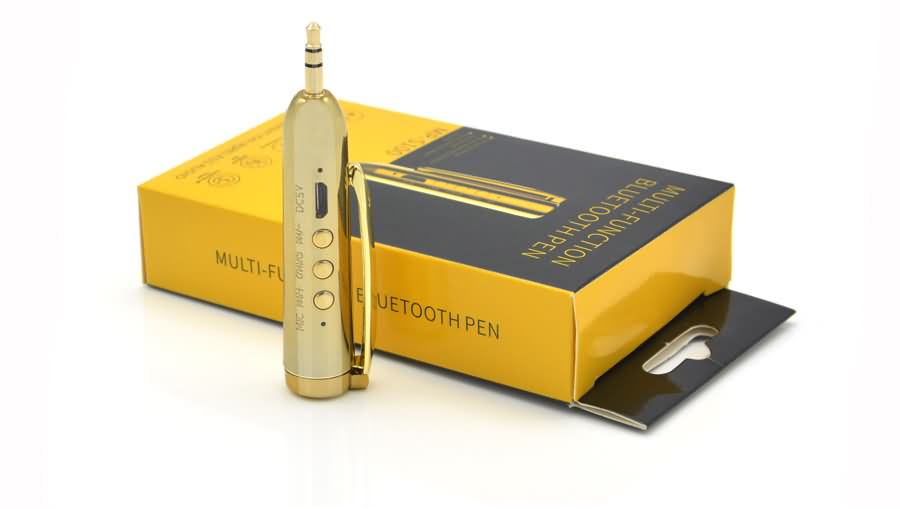 General Information
Product name
Bluetooth pen audio receiver
Bluetooth version
Bluetooth 4.0
Product color
Silver Gold
Transmission  distance
15M
Product interface
AUX
Usage time
4-6 Hour
Product Size
63mm (No interface)
14mm (No collar clip)